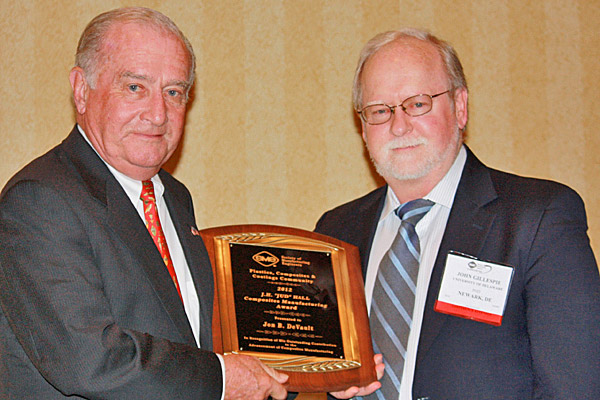 Composites visionary
Jon DeVault wins 2012 Jud Hall Award for contributions in composite materials
2:12 p.m., April 10, 2012--Prime mover, career shaper, composites visionary. These are some of the phrases used to describe Jon DeVault, recipient of the 2012 J.H. (Jud) Hall Composites Manufacturing Award from the Society of Manufacturing Engineers. The award was presented to DeVault at Composites Manufacturing 2012, in Mesa, Ariz., on March 14.
DeVault was introduced at the awards ceremony by Jack Gillespie, director of the University of Delaware Center for Composite Materials (CCM), who received the same honor in 2000.  The award is given annually to an individual who has "contributed to the composites manufacturing profession through leadership, technical developments, patents, or educational activities."
National Medal of Science
President Barack Obama recently presented the National Medal of Science to University of Delaware alumnus Rakesh Jain.
Warren Award
Rosalind Johnson, assistant dean for student success in the NUCLEUS Program in UD's College of Arts and Sciences, was presented the John Warren Excellence in Leadership and Service Award during a May 26 ceremony.
As an employee at Hercules in the 1970s, DeVault helped found CCM's industrial consortium. Later, in the 1990s, he supported CCM's involvement in programs funded by the Defense Advanced Research Projects Agency (DARPA), including the use of composites in infrastructure applications.
"Under Jon's leadership," Gillespie said, "Hercules became the largest supplier of graphite materials to the Department of Defense, as well as a manufacturer of composite structures. He was also instrumental in developing the automated fiber placement manufacturing technology and in expanding the composites business worldwide."
In his introduction, Gillespie not only enumerated DeVault's many accomplishments and leadership roles but also shared comments about him from other giants in the composites field, including three with connections to UD.
Former dean of engineering Byron Pipes, a member of the National Academy of Engineering (NAE), referred to DeVault as the champion of a "new miracle material"—high tensile strength carbon fiber—in the early 1970s when boron filament was the state of the art.
"Jon DeVault and carbon-fiber composites are synonymous in the United States," Pipes said.  "It is clear that visionaries are important to any significant new invention, and Jon DeVault is the personification of a composites visionary.  He not only foresaw the significant potential for this extraordinary material system; he stayed in the fight to bring it to a reality."
Mike Bowman, president of the Delaware Technology Park, admitted that he and DeVault were once fierce competitors, with DeVault at Hercules and Bowman at DuPont. 
"Both companies worked hard with DOD to position our new technologies for future military products," Bowman said. "Finally DARPA made us sit down and cooperate for the betterment of the industry and country. We did and soon became fast friends. I quickly learned Jon was one smart engineer, businessman and no-nonsense leader."
Vistasp Kharbari, who earned his doctorate at UD and is now provost and executive vice-president for academic affairs at the University of Alabama, Huntsville, traveled to Japan with DeVault during a Japanese Technology Evaluation Center trip funded by the National Science Foundation in 1992.
"We spent a little more than a week visiting corporations, laboratories, and universities," Kharbari says. "It was clear that the Japanese held Jon in very high regard. I learned more in that one trip than anywhere else.  Jon was gracious, open with his knowledge and experience, always ready to help a novice understand both manufacturing and materials and differences in culture, and, even though I had just completed my doctorate at the University of Delaware, treated me as an equal."
DeVault was involved in composites applications from Formula I race cars to the Voyager aircraft that flew around the world nonstop, and he left his mark in countries from the U.S. and the U.K. to Spain and Japan. A master at brokering collaborations, he helped set the stage for decades of subsequent research and development in carbon fiber composites. 
"Without Jon, it wouldn't have happened," said George Petersen, 1987 Jud Hall Award recipient, NAE member, and former director of the U.S. Air Force Materials Laboratory at Wright-Patterson Air Force Base in Ohio. 
About Jon DeVault
Jon DeVault received bachelor of science and master of science degrees in 1960 and 1962, respectively, in physics and mathematics from Baylor University.
From 1962 to 1969, prior to joining the advanced composite material business, he was a physicist and worked on the Polaris and Poseidon missile propulsion programs at Allegheny Ballistics Laboratory and Hercules Bacchus Works.
During his career with Hercules, he held various positions of increasing responsibility, including manager of marketing, vice president composite structures, vice president and general manager graphite materials and composite structures, and finally president of the composite products group of the Hercules Aerospace Company.  Under his leadership, Hercules was the largest supplier of graphite materials to the Department of Defense, as well as a manufacturer of composite structures.
He was vice chairman of Intermarine USA, a joint venture with Montedison that manufactured composite mine hunters for the U.S. Navy; president of Hispan, a joint venture with Sumitomo Chemical to manufacture polyacrylonitrile precursor for carbon fiber; and president of HAESA, a prepreg manufacturing operation in Spain.  DeVault also served on the board of TAEMA, a joint venture with BAT International to manufacture composite structures in Italy, and on the board of Sumika-Hercules, a joint venture to manufacture polyacrylonitrile precursor in Japan.
In the early 1990s, DeVault spent four years at DARPA, where he was responsible for planning and implementing a strategy to reduce the cost of polymeric matrix composite structures.  He initiated a group of programs known as the DARPA Affordable Composites Initiative, launching programs in affordable composites for propulsion, thermoplastic fiber placement, and composites for infrastructure renewal, among others.
In 1995, he formed DeVault and Associates Inc., which provides management and technical services to the advanced material industry and to government agencies. 
In 1996, DeVault received the SACMA Material Leadership Award for his contributions to the advanced material industry. In 2006 he received SAMPE's prestigious George Lubin Memorial Award for his lifetime contributions to the carbon fiber and composites industry.
Article by Diane Kukich