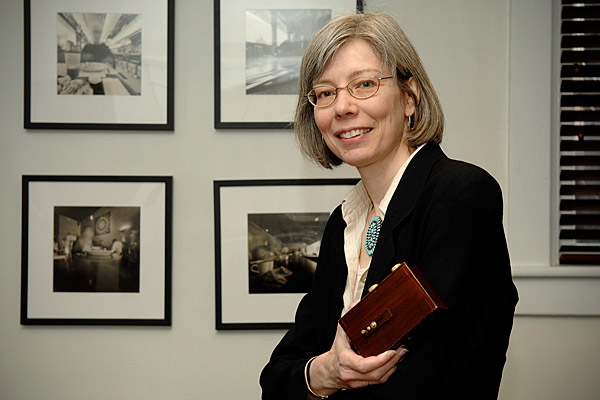 Smithsonian finalist
Photo by UD's Nancy Breslin among Smithsonian contest contenders
2:17 p.m., April 2, 2012--University of Delaware alumna Nancy Breslin has been named a finalist in the 9th annual Smithsonian magazine photography contest. 
Her photograph of a 99-cent store in New York City is one of the 50 finalists in five categories -- people, travel, altered images, the natural world, and Americana. 
National Medal of Science
President Barack Obama recently presented the National Medal of Science to University of Delaware alumnus Rakesh Jain.
Warren Award
Rosalind Johnson, assistant dean for student success in the NUCLEUS Program in UD's College of Arts and Sciences, was presented the John Warren Excellence in Leadership and Service Award during a May 26 ceremony.
The competition is highly competitive and Breslin's photograph is one of the 10 finalists in the "Americana" category, which was selected from over 60,000 submissions worldwide.
One thing that is unique about Breslin's photograph is that she took the photograph with a Diana toy camera. "Most of the other submissions were probably taken with expensive and advanced cameras," said Breslin.
Breslin is supplemental faculty in UD's Department of Art and taught ART382 Alternative Photographic Processes during the 2012 Winter Session. One of her class assignments was to shoot a roll of film with a plastic toy camera to teach students that "you do not need expensive equipment to compete at a high level," said Breslin. 
Toy cameras range from $50 to $100 and have one shutter speed with two apertures and a plastic lens, giving off a vignetting shadow around the image. 
Breslin said she believes that students "should give toy cameras a try," noting "you can take quality images that will hold up side-by-side to SLR cameras. They are really easy to use and light to carry."
Even if Breslin does not win the contest, she said that "being a finalist out of 60,000 -- that was enough winning for me." 
Breslin graduated from UD with a master of fine arts degree in photography in 2000. 
Article by Jennifer Kessman
Photo by Kathy F. Atkinson