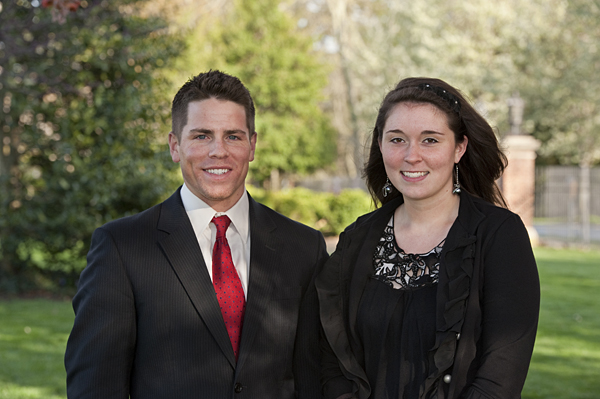 Outstanding seniors
Alumni Association honors top senior man, woman
9:38 a.m., May 2, 2011--Matthew Watters and Sarah LaFave have been selected as the recipients of the Alexander J. Taylor Sr. and Emalea Pusey Warner awards, respectively, as the outstanding man and woman of the University of Delaware's 2011 graduating class.
The awards are given annually by the UD Alumni Association to recognize the senior man and woman who most exemplify leadership, academic success and community service.
National Medal of Science
President Barack Obama recently presented the National Medal of Science to University of Delaware alumnus Rakesh Jain.
Warren Award
Rosalind Johnson, assistant dean for student success in the NUCLEUS Program in UD's College of Arts and Sciences, was presented the John Warren Excellence in Leadership and Service Award during a May 26 ceremony.
Matthew Watters
Watters, who is from Ramsey, N,J., is graduating with a bachelor's degree in neuroscience and a minor in political science. He has earned multiple awards, including the Rhodes Scholarship, and has made significant contributions to the University and the world because of his extraordinary will to create meaningful change.
On the Dean's List every semester, Watters has also shown great leadership out of the classroom in addition to excelling academically. He founded the student groups Students for Haiti and the Society of Neuroscience; he actively participates in College Democrats and tutors at the Academic Enrichment Center. Under his leadership, Students for Haiti has raised more than $60,000 to help rebuild a hospital in Villa, which was destroyed in the 2010 earthquake. 
Watters received a Plastino Scholarship, which allowed him to spend the summer of 2010 working in South Sudan for Merlin, an NGO specializing in rebuilding shattered healthcare networks. In 2010, Watters was named a Rhodes Scholar, the University's 12th, and he will pursue a master's degree in development studies at Oxford University in the fall. After Oxford, he plans to attend medical school and pursue a career in health policy.
Katharine Kerrane, senior associate director in the Honors Program, said, "Matt has demonstrated the drive and capacity to do real good in the world. He exemplifies Mr. Taylor's goals to work diligently to solve problems and improve people's lives."
Sarah LaFave
LaFave, who is from Voorheesville, N.Y., will graduate with an honors degree with distinction in nursing. Throughout her time at the University, LaFave has demonstrated academic excellence, leadership and a dedication to serving her community.
A senior nursing student in the Honors Program, LaFave is finishing her senior thesis, "The Impact of Instrumental Support on Quality of Life in Female Patients Undergoing Breast Cancer Treatment," while also completing her clinical requirements at Christiana Hospital. She was invited to join the Writing Fellows Program and assigned to Honors colloquia and a first-year composition course. In addition, she sits on the School of Nursing's Curriculum Committee. 
In 2009, LaFave started a registered student organization on campus in memory of her mother who died of breast cancer when LaFave was 14. The organization, called Lori's Hands, connects volunteers with local residents suffering from chronic illnesses who need assistance with such chores as grocery shopping, yard work and pet care. LaFave is working to expand Lori's Hands to other college campuses across the country and was selected as a Holiday Hero by USA Today in December 2010.
Kathleen Matt, dean of the College of Health Sciences, said, "Sarah has the vision and drive that is making a difference now and will make an even stronger impact in the future. Her experience, skill, dedication and enthusiasm will enable her to continue to make significant contributions to the lives around her." 
Also nominated
Others nominees for the Warner Award were Nicole Aizaga of Dix Hills, N.Y.; Ilana Berman, an honors student from Philadelphia; Christine Carney, an honors student from Silver Spring, Md.; Erica Cohen, an honors student from Rockville Centre, N.Y.; Rachael Dubinsky of Stamford, Conn.; Kristen Fonte of Oceanside, N.Y.; Erika Pohl, an honors student from West Chester, Pa.; Stephanie Povirk, an honors student from Carlisle, Pa.; Maria Velasquez of Newark, Del.; Meghan Wallace of Wilmington, Del.; Amanda Welch of Kennett Square, Pa.; Lauren Woglom, an honors student from Corning, N.Y.; and Marlene Yandrisevits, an honors student from Northampton, Pa. 
Other Taylor award nominees were Kenneth Adams of Newark, Del.; Gregory Fitter, an honors student from Penfield, N.Y.; Daniel Gerber of Melville, N.Y.; and Shakir McLean of Yorktown Heights, N.Y. 
About the awards
Alexander J. Taylor Sr. (1875-1940) entered Delaware College in 1889 and graduated in 1893 as class valedictorian, with a baccalaureate degree in civil engineering. Mr. Taylor was elected to the Board of Trustees in 1927, reelected in 1932 and again in 1938. He served on the Grounds and Buildings Committee and Executive Committee and was chairman of the Finance Committee.
Emalea Pusey Warner (1853-1948) is best remembered on the University of Delaware campus as a champion of education. In 1911, she became chairperson of the State Federation of Women's Clubs' Committee on Education and worked diligently toward the specific goal of establishing a state-supported women's college. In 1914, she was appointed chairperson of the Advisory Council of the Women's College and later became the first woman member of the Delaware College Board of Trustees. Both Warner Hall on the UD campus and Warner Elementary School in Wilmington are named in her honor.
The Warner Award was first given in 1950, while the Taylor award debuted in 1968. Recipients are recognized with a $2,500 scholarship, are honored at a luncheon and lead the alumni delegates' procession at Commencement.
Photo by Evan Krape