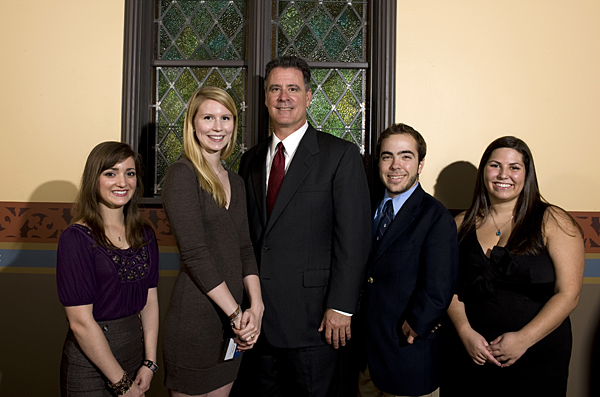 2011 Plastino Scholars dinner
Life-changing opportunities made possible by donor's generosity
10:26 a.m., May 18, 2011--Past and present recipients of the Plastino Scholars awards, competitive grants given to undergraduate students to pursue self-directed, off-campus courses of study, recently gathered to recognize the outgoing 2010 scholars and the incoming 2011 class.  They were joined by proud faculty members, parents, and the donor of the awards.  
Established in 2007 by a generous gift from Dave Plastino, a 1978 graduate of the University of Delaware's College of Arts and Sciences, the Plastino Scholars awards provide resources for students to develop an independent study in an area of personal interest.  According to Plastino, "These awards give students a chance to discover their own passions.  It takes a self-motivated individual, but everyone at UD has the opportunity to become a Plastino Scholar."
National Medal of Science
President Barack Obama recently presented the National Medal of Science to University of Delaware alumnus Rakesh Jain.
Warren Award
Rosalind Johnson, assistant dean for student success in the NUCLEUS Program in UD's College of Arts and Sciences, was presented the John Warren Excellence in Leadership and Service Award during a May 26 ceremony.
One such motivated student is Chris Kerwien, sophomore from Wilmington, Del.  A 2011 Plastino Scholar, Kerwien is planning to travel to India for the summer to work as an intern for Promethean Power to study their solar-powered refrigeration technology and its impact on the developing world.
"It was very humbling to get this opportunity," says Kerwien, who currently does research at the University's Institute for Energy Conversion. "It will be a huge experience, and I am really looking forward to it.  I am so grateful to have this chance."
Program director Patricia Sloane-White said, "Dave Plastino gave a gift to UD to start this program because he believed he could create transformation and engagement for students.  It has had an even greater reach than that, because it has transformed everyone who is touched by the program.  The lives these students impact, both abroad and here at UD, have been changed for the better by the overwhelmingly positive and powerful force of this program."
"The most meaningful part about the Plastino experience for me was traveling the world by myself and experiencing the culture," says Liza Melms, a 2010 Plastino Scholar from Madison, Wis., who traveled to Egypt and Indonesia to study the Islamic headscarf and its role in women's lives.  "Mr. Plastino totally changed my life, and I hope I can make this kind of impact on someone else."  
Melms, an international relations major in the UD Honors Program, says she feels honored to be part of such a prestigious group of students. "Just looking around this room, you know everyone else here is going somewhere," she says.  "It is special to be part of it, and you know when you look back that this will be a defining moment in your life."  
2011 Plastino Scholars
Allison Rogers, a pre-veterinary medicine and animal biosciences major and wildlife conservation minor from Scarborough, Maine, is affectionately known among her fellow majors as "the bird girl" for her passion and interest in the health of birds. As a Plastino Scholar, she will travel across the country – from Los Angeles to Pittsburgh to Rhode Island – in order to bring awareness to the world parrot crisis, an issue that involves the homelessness, excessive breeding and avian diseases that result from the smuggling, overcrowding and neglect of these exotic birds. 
Chris Kerwien, an Honors Program student from Wilmington, Del., will apply the knowledge he has gained as an electrical engineering and computer science major with minors in sustainable energy technology and mathematics by working as an intern for Promethean Power Systems, a company in India that has developed a solar-powered refrigeration system for commercial cold-storage applications in off-grid and partially electrified areas of developing countries. The company's technology enables suppliers to store and preserve perishable items — from vaccinations to produce —without the need for expensive diesel-powered generators. 
Kerwien will collect solar, thermal and operational data and perform data analysis of system performance while living in housing supplemented by the company, thereby gaining valuable hands-on experience in solar energy technology while immersing himself in an environment in which the systems he'll analyze will change the lives of those who use it.
Lisa Russo, an anthropology and history double major with a minor in East Asian Studies, from Scottsdale, Ariz., will conduct anthropological field work in Indonesia. Russo will spend 10 weeks in Bali, studying the art of gamelan, a prevalent form of music and dance. Gamelan is a musical ensemble that is considered a single instrument, although it consists of dozens of percussion pieces. She will study what aspects of gamelan make it such an integral part of everyday life in Bali, and how and why people incorporate this beautiful art form in their lives.
Stephanie Halperin, a history major with minors in anthropology and Latin American and Iberian studies from Riverdale, N.J., will combine her background in Latin American history with her personal interest in social and cultural anthropology through the Plastino Scholars experience. She will conduct ethnographic and historic research on the Jewish community of Buenos Aires – the largest Jewish population in Latin America and nearly two percent of the Argentine population.  Living with a family in Argentina, Halperin hopes to better understand how this population has assimilated and integrated in accordance with Argentine society's larger cultural expectations and standards. She plans to write a senior thesis on the topic.
Article by Julie Russ
Photo by Kathy F. Atkinson