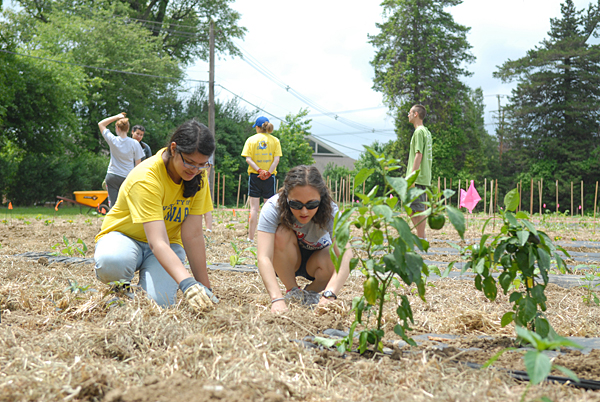 Honored for service
UD receives President's Honor Roll for distinguished community service
10:48 a.m., May 20, 2011--The University of Delaware has been named to the 2010 President's Higher Education Community Service Honor Roll with Distinction, making it the only university in the state to receive this federal recognition of community service.
Nationally, 851 institutions applied for the 2010 Honor Roll, which recognizes colleges and universities that "reflect the values of exemplary community service and achieve meaningful outcomes in their communities." Of those, 641 were admitted, 511 were named to the Honor Roll, and 114 -- including UD -- received Honor Roll "with distinction."
National Medal of Science
President Barack Obama recently presented the National Medal of Science to University of Delaware alumnus Rakesh Jain.
Warren Award
Rosalind Johnson, assistant dean for student success in the NUCLEUS Program in UD's College of Arts and Sciences, was presented the John Warren Excellence in Leadership and Service Award during a May 26 ceremony.
This is the University's fourth consecutive year of being named to the Honor Roll and its second year of being honored with distinction. It last received that honor in 2008. 
UD was recognized primarily for two community services: the campus-wide partnerships with the Food Bank of Delaware (FBD) and the Early Learning Centers in Newark and Wilmington. 
"Community service is integral to our mission, and we are honored that our partnerships and community outreach continue to be recognized in such a prominent way," says Provost Tom Apple.  
A recent economic impact study found that University students and faculty members contribute more than $6.7 million in annual goods and services to the national economy and provide more than $1.4 million in free labor through volunteerism and service learning. 
Food Bank partnerships
The University has collaborated with FBD in a various capacities, from faculty members who serve on the organization's board and provide expertise in the areas of economics and nutrition, to academic curricula and graduate student projects that allow FBD to more effectively meet its client's needs. 
For example, operations research students generated sub-maps of Delaware and categorized food assistance needs through census tracking and GIS databases, and a business graduate student served as an organizational consultant for the start-up of a new statewide Anti-Hunger Coalition.  
In 2009, the Garden for the Community project, in which staff and staff-supported volunteers within the College of Agriculture and Natural Resources grow vegetables, herbs and fruits for FBD to distribute through the state, produced more than 7,000 pounds of food. 
Early Learning Center
"The Early Learning Center (ELC) is an example of the University's commitment to providing high-quality early care and education programs to the youngest, most vulnerable members of Delaware," says Lynnette Overby, professor and faculty director of the Office of Undergraduate Research and Experiential Learning. 
The ELC-Wilmington is the only licensed childcare facility in the Southbridge section of Wilmington, providing low-income residents a comprehensive approach to child and family support. The Wilmington center is a partnership with New Directions Early Head Start, administered through the Department of Human Development and Family Studies and the Neighborhood House. 
In Newark, the center is in its seventh year of providing care to 230 children and families, 20 percent of whom have serviceable disabilities, 10 percent of whom are in foster care, and 30 percent of whom live below the poverty level. 
About the Community Service Honor Roll 
The President's Higher Education Community Service Honor Roll is cosponsored by the Corporation for National and Community Service, the Department of Education, the Department of Housing and Urban Development, Campus Compact and the American Council on Education.
Honorees are chosen based on a series of selection factors, including the scope and innovation of service projects, the extent to which service-learning is embedded in the curriculum, the school's commitment to long-term campus-community partnerships and measurable community outcomes as a result of the service.
The Office of Service Learning coordinates the annual application.
Article by Artika Rangan
Photo by Danielle Quigley