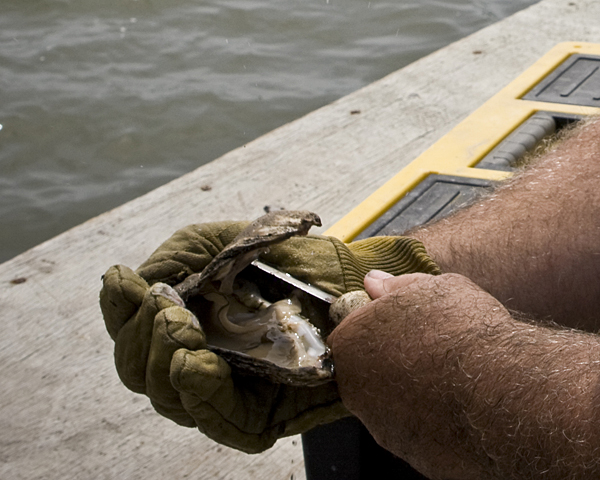 June 18: Oyster workshop
Lewes workshop to examine viability of shellfish aquaculture in Inland Bays
10:49 a.m., June 1, 2011--Together with the Center for the Inland Bays and about 150 volunteers, Delaware Sea Grant is restoring Inland Bay oyster populations. Working since 2003, the partners have shown the feasibility of growing the shellfish in Delaware's Inland Bays — Rehoboth, Little Assawoman and Indian River. 
In response to recent stakeholder inquiries about the feasibility of commercial shellfish aquaculture operations in the Inland Bays, the two groups are hosting a workshop to explore the topic. The event will take place 8 a.m. to 4 p.m. on Saturday, June 18. It will be held at the University of Delaware's Virden Center, which is located at UD's Hugh R. Sharp Campus, 700 Pilottown Road in Lewes.
June 5: Blue Hen 5K
University of Delaware graduates planning to attend Alumni Weekend are encouraged to register for the annual Blue Hen 5K walk and run, which will be held Sunday morning, June 5.
June 6-9: Food and culture series
The 20th annual June Lecture Series at the Osher Lifelong Learning Institute at UD in Wilmington will be held June 6-9. Titled 'June a la Carte,' this year's program focuses on great political documents, feminism, world politics and a Newark cuisine sampler.
Speakers will include aquaculture practitioners, state resource managers, technical experts and decision makers. After the event, organizers will release a whitepaper on the proceedings.
The workshop is being hosted in collaboration with the Inland Bays Water Use Plan Implementation Committee, which is a committee of the Center for Inland Bays board of directors that aims to improve conditions for water use activities. Oysters are known to have various environmental benefits, including the improvement of water quality with their natural filtering action. 
The deadline for registration, which is $15, is Friday, June 3. Attendance is limited to 80 participants.
To register by check, download and print a copy of the informational brochure, which includes the agenda and registration form. Online registration is also available. 
Article by Elizabeth Boyle
Photo by Derek Parks