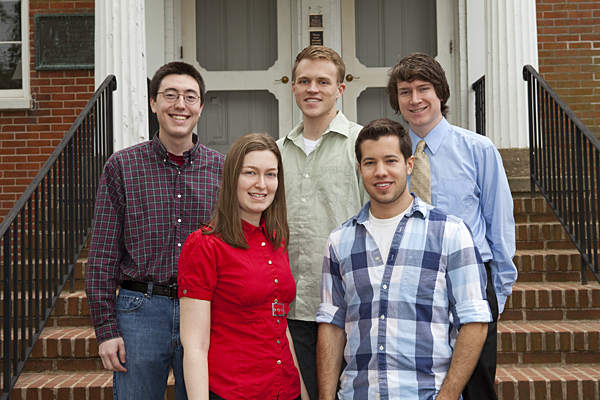 Fellowships in the fast lane
Students win prestigious NSF Graduate Research Fellowships
2:08 p.m., April 19, 2011--Nine students are the latest in the University of Delaware family who can now say they have something in common with a number of Nobel laureates, Google's founder, Sergey Brin, and U.S. Secretary of Energy Steven Chu. They are all winners of the National Science Foundation's Graduate Research Fellowship.
The prestigious fellowship includes a three-year annual stipend of $30,000 along with a $10,500 cost-of-education allowance for tuition and fees, opportunities for international research and professional development, and the freedom to conduct research at any accredited U.S. institution of graduate education.
National Medal of Science
President Barack Obama recently presented the National Medal of Science to University of Delaware alumnus Rakesh Jain.
Warren Award
Rosalind Johnson, assistant dean for student success in the NUCLEUS Program in UD's College of Arts and Sciences, was presented the John Warren Excellence in Leadership and Service Award during a May 26 ceremony.
Six of UD's new NSF Fellows are affiliated with the Department of Chemical Engineering, which has a strong tradition of excellence in research and teaching.
"It is a great honor to be recognized," says graduate student Benjamin Kremkow. "I have been fortunate with the opportunities that have been provided to me, as well as the professors who have helped make me into the student researcher I am today."
Kremkow is working with Kelvin Lee, Gore Professor of Chemical Engineering, on the product quality of biological pharmaceuticals. These therapeutic protein molecules, modified through DNA technology, have been heralded as the drugs of the future for their ability to deliver pinpoint treatment to diseased cells. 
Kremkow is one of three NSF Fellows who now will pursue doctoral research in chemical engineering at UD. He is joined by Bryan Yonemoto, also currently a graduate student in chemical engineering at UD, and Mariah Woodruff, who is completing her master's degree at North Carolina State University and will begin studies at UD this fall.
Three UD seniors in chemical engineering won fellowships and will continue their research at other institutions. They include Mark Weidman, who will attend the University of California-Santa Barbara; Amy Chevalier, the University of Virginia; and Sean Hunt, the University of Wisconsin–Madison. 
Three UD alumni also have joined the NSF Fellow ranks. They include Aimee Stahl, working in developmental psychology at Johns Hopkins University; Melissa Stewart, in civil engineering at the University of Colorado at Boulder; and Amy Styer, in the life sciences–biochemistry at the University of Georgia.
Eighteen current UD students and alumni at other institutions won honorable mention, which is considered a significant national academic achievement and provides access to cyber-infrastructure resources through the NSF-funded TeraGrid. 
"The NSF Graduate Research Fellowship is among the nation's premiere awards for outstanding graduate students and a great predictor of future success in the scientific, technology, engineering and mathematics workforce," says Charlie Riordan, vice provost for graduate and professional education at UD. "We congratulate our students and wish them well as their careers progress."   
The Office of Graduate and Professional Education will host a workshop on April 25 for students interested in learning more about external funding opportunities, including the NSF Graduate Research Fellowship. See this UDaily story for more information.
Article by Tracey Bryant
Photo by Ambre Alexander