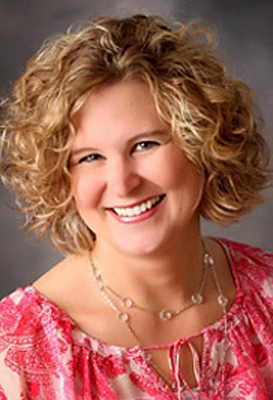 May 3: Top teacher visits
National Teacher of Year to speak at Perkins Student Center
1:43 p.m., April 26, 2011--By asking her high school students to outline their personal expectations for her course, Sarah Brown Wessling, the 2010 National Teacher of the Year, fosters a learner-centered atmosphere, generating superior results. Wessling will be at the University of Delaware on Tuesday, May 3, from 5 -7 p.m., in the Rodney Room of the Perkins Student Center, to share her inspirational teaching philosophy.
As the 60th National Teacher of the Year, Wessling, an English teacher at Johnston (Iowa) High School, has devoted this year to being a national and international spokesperson for education. During this time she has given presentations explaining how she "creates a web of rigorous content, real-world experience, and inquiry-based experiences around the learner."
June 5: Blue Hen 5K
University of Delaware graduates planning to attend Alumni Weekend are encouraged to register for the annual Blue Hen 5K walk and run, which will be held Sunday morning, June 5.
June 6-9: Food and culture series
The 20th annual June Lecture Series at the Osher Lifelong Learning Institute at UD in Wilmington will be held June 6-9. Titled 'June a la Carte,' this year's program focuses on great political documents, feminism, world politics and a Newark cuisine sampler.
Wessling is passionate about learning in the 21st century, believing that teachers must "recognize the importance of teaching that marries content to skill," that problem solving and critical thinking are useless without the facts, but that the reverse is also true. 
Saying she was "meant to be a teacher," Wessling realized she could indulge her passion for many different subjects and make them meaningful by igniting a similar curiosity in others. In her classroom, she utilizes this by stepping outside the typical English curriculum of a five paragraph essay and into the world of surveys, songs, film storyboards, public service announcements and Facebook pages.  
A yearly grant project allows her to get the entire town involved, and she said she never loses sight of her goal to create life-long learners and genuine thinkers accustomed to intellectual risk.
The May 3 presentation is sponsored by the University Council on Teacher Education and the Delaware Center for Teacher Education.  Individuals and classes are welcome.  If you have a large group, email senff@udel.edu with an estimated number of attendees.
The National Teacher of the Year Program is a project of the Council of Chief State School Officers (CCSSO). CCSSO is a nationwide, nonprofit organization of public officials who head departments of elementary and secondary education in the U.S.  The National Teacher of the Year Program is presented and sponsored by the ING Foundation.
Article by Alison Burris