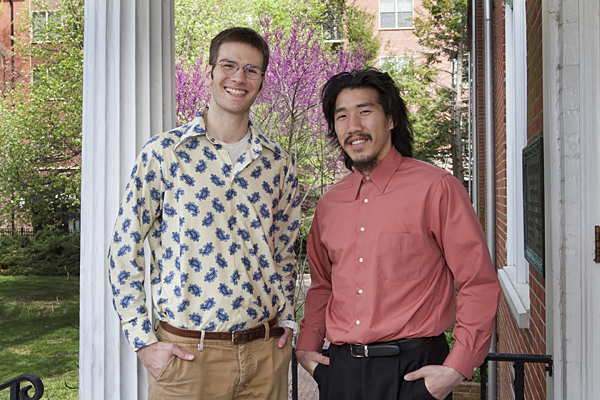 Goldwater Scholars
UD students Gilpatrick, Kim selected for prestigious national program
10:28 a.m., April 25, 2011--Two University of Delaware students—Timothy Edward Gilpatrick, a biochemistry major, and Joey D. Kim, a chemical engineering major—have been awarded scholarships by the Barry M. Goldwater Scholarship and Excellence in Education Foundation.
The scholarship program honors the late U.S. senator and was established to provide a continuing source of highly qualified scientists, mathematicians and engineers by awarding scholarships to college students who intend to pursue careers in these fields. This premier undergraduate award of its type in these fields, it covers the cost of tuition, fees, books and room and board up to $7,500 per year. 
National Medal of Science
President Barack Obama recently presented the National Medal of Science to University of Delaware alumnus Rakesh Jain.
Warren Award
Rosalind Johnson, assistant dean for student success in the NUCLEUS Program in UD's College of Arts and Sciences, was presented the John Warren Excellence in Leadership and Service Award during a May 26 ceremony.
According to the scholarship program, this year's 275 Goldwater Scholars were selected on the basis of academic merit from a field of 1,095 mathematics, science and engineering students who were nominated by the faculties of colleges and universities nationwide. 
Joey Kim
When he received the email notifying him of his selection for the scholarship, Kim said he "was struck with such an indescribable and incomprehensible emotion that I didn't know what else to do other than get on my knees and begin worshiping God with all that I am."
To Kim, who is from Irvine, Calif., being named a Goldwater Scholar "is a representation of the first major step toward achieving my career goals." He plans to earn a doctorate in renewable energy and become a research professor at a university "to have direct impact on both the future generation of engineers and the world of science."
He particularly thanked Thomas H. Epps, III, assistant professor of chemical engineering, "for providing me with an opportunity to engage in research as a part of the Epps group, as well as funding my project." 
He said he also was grateful for help he received from Julie N.L. Albert, his graduate student mentor; Sue Serra, coordinator of the Office of Service Learning; John Burmeister, Alumni Distinguished Professor of Chemistry and Biochemistry; and Daniel Cha, professor of civil and environmental engineering. 
Timothy Gilpatrick
Gilpatrick, from Nashua, N.H., learned of his recognition as a Goldwater Scholar during spring break while preparing buffer solutions in a Drake Hall lab. "My reaction was one of somber gratitude and joy, which may have included a small dance," he said.
Receiving the scholarship, he said, has "encouraged me to remain focused and to continue through the challenges of my education." 
Gilpatrick's professional goal is to conduct research and teach at an academic medical center. His research interest is in analyzing signaling pathways of the immune system, which he said "has many applications, including vaccine development and the treatment of autoimmune diseases."
Gilpatrick, a student in the University's Honors Program, thanked several UD faculty members for inspiring his interest in science and in research, including Burmeister; Burnaby Munson, C. Eugene Bennett Professor of Chemistry and Biochemistry; Harold White, professor of chemistry and biochemistry and of biological sciences; and Brian Bahnson, associate professor of chemistry and biochemistry. He also thanked his parents for their support of his education, the Young Americans organization and the Deltones a cappella group "for keeping me surrounded in song and reminding me of the importance of friendship."
Article by Kayla Codina
Photo by Ambre Alexander