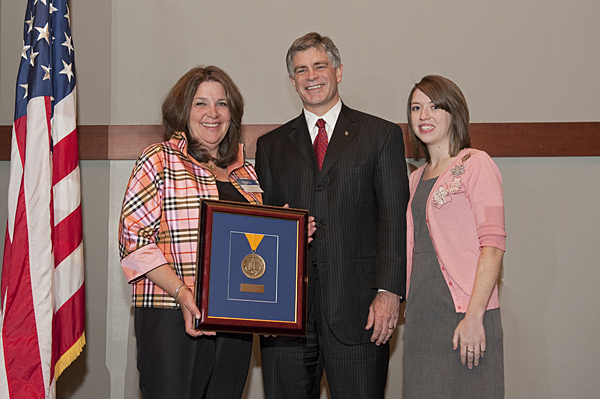 Celebration of Scholarship dinner
Generosity, scholarship recognized at annual event
8:48 a.m., April 19, 2011--People give and receive gifts on all sorts of occasions, but rarely do those gifts change lives.  Scholarships are the exception to that rule, because they provide the priceless gift of education.
On April 7 at Clayton Hall, University of Delaware President Patrick Harker hosted the third annual Celebration of Scholarship dinner for scholarship donors and student scholarship recipients. This important evening is an opportunity for students to show their gratitude and for patrons to learn about the young men and women in whom they have invested.
National Medal of Science
President Barack Obama recently presented the National Medal of Science to University of Delaware alumnus Rakesh Jain.
Warren Award
Rosalind Johnson, assistant dean for student success in the NUCLEUS Program in UD's College of Arts and Sciences, was presented the John Warren Excellence in Leadership and Service Award during a May 26 ceremony.
Scholarship recipients were enthused by the opportunity to speak with the benefactors who make their education possible. David Lombardi, a senior in the Alfred Lerner College of Business and Economics and recipient of the John Puglisi Scholarship, said he found it to be "humbling to be around so many talented students and donors who are committed to their success."
Jessica Chason, a Lerner College senior and Honors Program student and recipient of the Pinto Family Scholarship, said "it was great to be able to tell the donors how much their generosity is appreciated, and how much they matter to us."
This year's event saw the start of a new tradition: the presentation of the President's Award for Philanthropic Commitment. This award, given in recognition of leadership, commitment and dedication to supporting a rich and stimulating undergraduate environment, was presented posthumously to Muriel E. Gilman and accepted by her daughter Martha Gilman.
Muriel Gilman and her late husband Marvin established three scholarships at the University of Delaware, benefitting almost 50 students thus far, and many more in the future. 
Recent graduate Rachel McCulley, recipient of the Swank Human Services Disabilities Scholarship, brought the night to an emotional close by addressing the 300 guests and sharing how her scholarship had deeply enriched her college experience. "I know that everyone here has a story to tell because someone believed in them," she said. "The ongoing encouragement and support from the Swank Foundation motivated me to achieve all that I could during my time at the University of Delaware. Tonight, this event has brought together the students and donors to continue the cycle of motivating and encouraging one another."
To learn more about how you can make a difference in the lives of students, visit the website.
Article by Julie Russ
Photo by Evan Krape