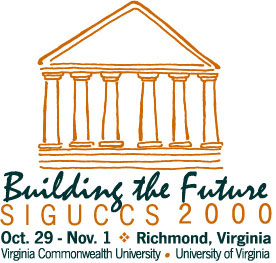 ---
Please join us in historic Richmond, Virginia for SIGUCCS 2000. We will meet at the OMNI Hotel in the heart of the historic district. Nearby is the Canal Walk and Shockoe Slip--along with diverse restaurants and plentiful shopping.
Virginia Commonwealth University (Richmond) and the University of Virginia (Charlottesville) are sponsoring SIGUCCS 2000.

Our theme, "Building the Future," refers to the fine historic architecture of Virginia and the beginning of the new millennium.