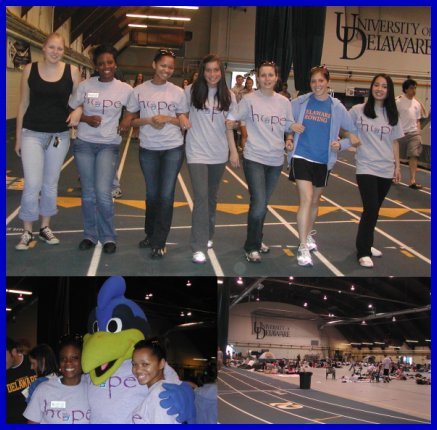 SNO Members
Relay for Life
May 5, 2007
During each semester, SNO invites an assortment of speakers to come and talk to our members about prospective job opportunities or ways to get involved within our community. We have been privileged to have Nurse Recruiters from local hospitals talk to us about job opportunities for undergraduates and expectant graduate nurses and scholarships offered to students. We also have speakers from local branches of medical and disease related organizations speak about fundraising through walk/run-a-thons.
We are also dedicated to helping the University of Delaware's School of Nursing recruit prospective students. During the fall semester, SNO members attend the Blue & Gold Recruitment Days to talk to high school students and their families about attending the University of Delaware, School of Nursing, and what it will be like to be a nursing major at the University of Delaware. This is repeated once again during the spring semester for Decision Days. We help high school students who have been accepted to the University of Delaware decide if the University of Delaware and the School of Nursing will be their home away from home.

Blue and Golden Days : SNO is looking for junior and senior nursing students to volunteer to represent the School of Nursing at Blue and Gold days for prospective students and their parents. Students will be answering questions and giving tours of the simulations labs. The dates are Saturdays, October 11 th, October 25 th, and November 15 th, from 9- 11:30 am. If interested in volunteering for one of these dates, please email amkursch@udel.edu.
Newark Charter School is looking for freshman nursing students to help with taking student's height and weight for BMI calculations. The dates are Wednesday 10/15/08 and Thursday 10/16/08 from 8:15 – 3:15. This would be a great way to work with others and help out the community! Spots will be filled on a first come first serve basis. Transportation will be worked out. If you are interested, please email me at amkursch@udel.edu with your name and availability.
Committees : SNO is currently looking to fill our committee head positions with junior or senior nursing students who are interested. The 3 committees available are Education, Volunteer, and Fundraising. The committee head (leadership position!) would basically be in charge of maintaining contact between the executive board and the committee members. If interested, please email amkursch@udel.edu.
Fundraisers : Our first fundraiser, the blood pressure cuff and stethoscope sale, is coming to an end. When the order comes in, you will receive an email informing you when and where (304 McDowell) you can pick up the items you ordered. Check back for updates regarding our future sales of sweatshirts and NCLEX books later in the semester.
Relay For Life : SNO is going to be getting involved with the campus wide Relay for Life Fundraiser benefitting the American Cancer Society. The actual event takes place May 2 nd-3 rd at the Field House. Committees will be established and students will be teaming up to set up cancer awareness and prevention tables at the event to teach the University of Delaware community some important information. In addition, SNO is sponsoring a battle of the classes year long fundraising events. We are currently looking for a team captain for each of the 4 classes to head the fundraising effort and motivate their classmates to raise money. A bagel/coffee breakfast will be held at the end of spring semester for the winning class. If you are interested in being a team captain for your class (yes this is a leadership position as well), or you would like more information in how you can get involved, please email pfeld@udel.edu. More information will follow as it becomes available.
Please contact any member of the executive board if you have ideas for things SNO can get involved in! We are always open to new ideas!