Q&A
In this issue of FIBER, we gain insight into the Thai textile industry from two different perspectives.
Mr. Pramode Vidtayasuk, Director General of the Department of Industrial Promotion, Ministry of Industry, answers questions about the Thai government's efforts to assist the growing textile and apparel industry.
Read more

Dr. Foengfurad Mungtavesinsuk, Professor, Agro-Industry Faculty, Textile Science and Technology Department, Kasetsart University, characterizes the Thai apparel industry, how it has changed over the years, and the challenges it faces for the future.
Read more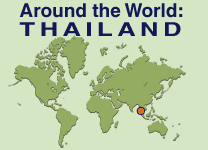 About one sixth of Thailand's 65 million inhabitants now live in and around the capital city of Bangkok.
and other parts of Asia. Its 3,200-kilometer coastline boasts several important ports.Thai exports total more than $150 billion annually. Thailand is the world's top exporter of rice and a leading producer of tungsten and tin. Other top products include textiles and garments, fishery products, and computers and electronics.
The textile industry in Thailand produces the second largest amount of export revenue and generates employment for about 1 million Thais.

A unified kingdom since the mid-14th century, Thailand is the only Southeast Asian country never to have been taken over by a European power.
The Thai population enjoys a high level
of literacy and education. Buddhism is
an integral part of Thai culture and is practiced by about 95% of the population.
Thailand occupies an area about twice
the size of Wyoming, inlcuding a narrow
isthmus between the Gulf of Thailand
and the Strait of Malacca that provides
the only land route between Malaysia