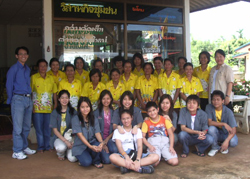 Students and researchers from Kasetsart University
and a team from the Thai Bank of Agriculture and
Agricultural Cooperatives work with rural community
groups.
Kasetsart University (KU) collaborates with the Thai Bank of Agriculture and Agricultural Cooperatives (BAAC) to serve underdeveloped rural communities in Thailand. By transferring basic textile knowledge and technology, the collaboration is improving the income and quality of life of residents in Thailand's rural villages.
Faculty and students from KU teach villagers environmentally sound natural dye techniques and provide guidance and advice in product design and development. With improved skills in apparel construction techniques, the villagers' produce higher quality products that more often meet international standards. The project's success after four years is apparent in the prices the villagers receive for their improved products, some 30% higher than before the project began.

A university researcher leads the team in transferring
new techniques and technology to rural women.
Since the project's clients have been almost all women who do weaving, KU and BAAC have initiated a new project called the Gender Project. While continuing the goals and methods of the first project, the new project takes things a step further by dividing the participants into teams or clusters responsible for design, product development, production, and marketing.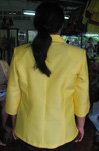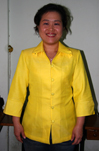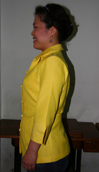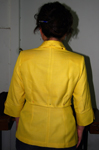 A comparison of a product before and after product development advice is offered
by the KU team.
The Thai royal family has a long history of sponsoring development projects in rural areas of Thailand. Since 1969, King Bhumibol Adulyadej has sponsored more than 3,000 projects which have reached deep into rural areas to improve the welfare of rural residents through education, skills, and technology transfer while preserving the natural environment of these areas.
KU plays a small part of the Occupational Promotion Project sponsored by Crown Princess Maha Chakri Sirindhorn. This project reaches out to groups living on Thailand's mountainous borders and deep jungles where residents often lack modern electricity, water supplies, and communications. Under the project, each group first builds a school to provide free education for the children, then follows up with a training center in which the women can learn a skill and earn extra income to improve their lives.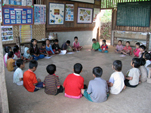 The Occupational Promotion Project first meets educational needs by building schools,
then offers skill training to the local women.
The project began in 1999 with 20 participating groups and has grown to include 50 groups in 2008. Trainers from KU begin by transferring skills in using natural dyes and hand weaving of cotton products. Once a group's skills and quality reach accepted standards, the Phufa Shop, a promotional project of Crown Princess Maha Chakri Srindhorn, helps with marketing and selling their products in the marketplace. Income from the project grew from 200,000 baht in 2005 to 1.3 million baht in 2007. Product development and sewing skills were added to the project in 2006. With this input, income from product sales are expected to reach 1.6 million baht in 2008. Research shows that the income earned by the group mostly goes to the children for higher education (although the education is free, they need extra money for living allowances).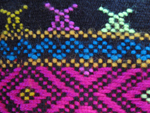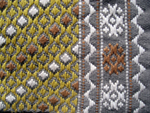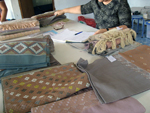 By suggesting alternatives in color and style, the KU team
opens new economic opportunities to rural artisans. Here
traditional Thai textiles (left) are shown in traditional bright
colors and in the new, more neutral tones.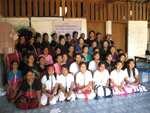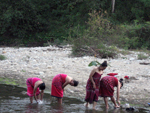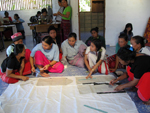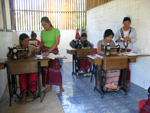 A group of women from one of Thailand's hill
tribes gains the skills they need to produce apparel
for outside markets.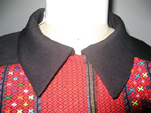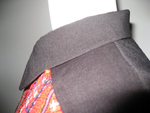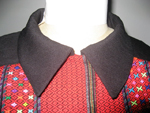 Here the evolution of a garment from traditional styling and fabrics to a more modern style is shown.
Top