Blue Hens Hit Awards Century Mark at 2012 ISCC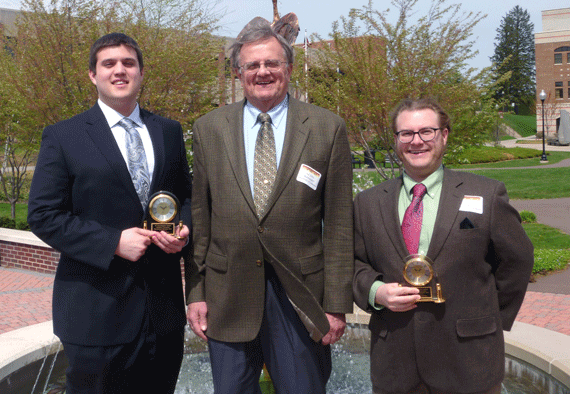 The size of the University of Delaware contingent at the 76th Intercollegiate Student Chemists Convention (Bloomsburg (PA) University, April 14, 2012) may have been small, but they stood tall on
the awards podium. Indeed, Justin Teesdale (BS/CHEM/12) and Gregory Darone (BS/CHEM/13) swept the awards for their presentations in the Inorganic Division.
Justin, who works in the laboratory of Prof. Joel Rosenthal, received the first place award for his presentation entitled "Rhenium Platforms Supporting Ancillary BODIPY Chromophores for Conversion of Carbon Dioxide to Fuels".
Greg, whose mentor is Prof. Svilen Bobev, was chosen for the second place award for his presentation describing "Tetragonal to Orthorhombic Crystal Structure Transitions in Ho(Ga[1-x]Si[x])[2]".
Both Justin and Greg received Plastino Alumni Undergraduate Research Fellowships last summer. Greg was the first U of D freshman ever to receive an ISCC presentation award last year, and is also the first U of D sophomore to do likewise.
The two awards garnered by Justin and Greg have pushed the all-time U of D ISCC awards total to exactly 100. Ursinus College is in second place, with 72 awards.
The two presenters were accompanied by Prof. John Burmeister, Alumni Distinguished Professor and Associate Chair of CHEM/BIOC, who attended his 47th consecutive ISCC.
Next year's ISCC will be held at Elizabethtown (PA) College (date TBA).

JB