Brennie E. Hackley, Jr. Award
Hua "Nancy" He, a doctoral candidate in Prof. Svilen Bobev's research group since 2008, was presented with the first Brennie E. Hackley, Jr. Award at a Departmental Seminar on April 06, 2011. Nancy received her B.S. in Chemistry at the University of Science and Technology of China (USTC). Nancy's research project focuses on synthetically very challenging intermetallic compounds of the alkaline-earth metals with elements from groups 12 through 15. These compounds are typically narrow-gap semiconductors and exhibit intermediate properties between those of typical insulators and typical metals. This work is motivated by two of the greatest challenges of our time—energy and environment.  Thermoelectric materials can help reduce carbon emissions and utilize thermal energy, otherwise wasted, e.g. exhaust heat.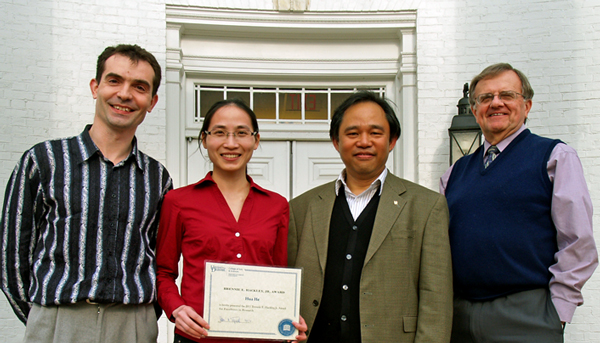 Left to right: Professor Svilen Bobev, Hua "Nancy" He, Professor Arnold Guloy and Professor John Burmeister
The Brennie E. Hackley, Jr. Award for Excellence in Research will be given in perpetuity, thanks to a most generous endowment established by his family. Dr. Hackley received his M.S. (1954) and Ph.D. (1957) degrees from the University of Delaware, working with (the late) Professor Betty Dyer. He was the first African-American to receive a doctorate in chemistry from the U of D.
Dr. Hackley was the Chief Scientist and Scientific Advisor to the Commander of the U.S. Army Medical Research Institute of Chemical Defense, Edgewood Area of the
Aberdeen (MD) Proving Grounds. His career encompassed a remarkable 57 years of continuous government service. His 75 scientific publications and 15 U.S. patents contributed significantly to the development of medical antidotes for chemical warfare agents. Following his death on November 5, 2006, he was posthumously awarded the U.S. government's Exceptional Civilian Service Medal. In addition, on July 17, 2009, the new USAMRICD Collaborative Research Facility at the Edgewood Chemical and Biological Center was dedicated to his memory. The 6,800 square foot facility is designed to serve as a venue to support collaboration with entities external to the USAMRICD, including research partners in industry, academia, and government.