Time seems to run faster in the Chair's office. Just a few short months ago, it seems, I wrote to you as Chair Elect about my hopes and aspirations for our Department, and now – a year later (!?) - it is time to give you an update about the happenings here in Brown Laboratory and its surroundings.
Things are changing at the University of Delaware. Under the leadership of President Patrick Harker, the institution has formulated a new strategic plan and is embarking on a 'Path to Prominence' (you can find out more about this on the University
Continued......................................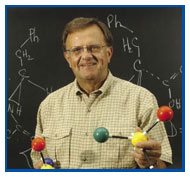 The retrospective view which follows was spawned by an invitation from the Delaware ACS Section to speak at a 5/14/08 luncheon meeting at the Brantwyn Mansion honoring the 50- and 60-year ACS members residing in the Delaware Section (see relevant notes in the Faculty and Alumni News sections).
Continued......................................
(Parenthetically, it is interesting to note that the latter list of 27 members was 35% larger than the former (20), which seems to be counter-intuitive.) I decided to contrast the Department of Chemistry that greeted me upon my arrival in 1964 with today's Department of Chemistry and Biochemistry, emphasizing three P's: physical plant, personnel, and programs.
Space restrictions preclude me from giving you a visualization of the physical differences that have evolved in our Department during my tenure. Suffice it to say that a Department occupying only the north (early 60's) and west (1936) wings of Brown Laboratory