Background
The Blue Hen Poll (BHP) is a public opinion study designed to examine the opinions and experiences of students at the University of Delaware (UD). The 2013 study focused on full-time undergraduate students enrolled at the Newark, DE campus as its population of interest.
Students in an undergraduate political science and international relations course (POSC 413 – Topics in American Government, Blue Hen Poll Research) conducted the research and analysis for the project. The topics in the poll's questionnaire were determined by the students and Professor David C. Wilson (Department of Political Science and International Relations); however, topics were also solicited from members of the Student Government Association (SGA), the UDReview student newspaper, and from various conversations with students, faculty, administrators, and other academic units on campus. 
The 2013 Poll
The Office of Institutional Research and Planning provided a sample of 4,998 students, which included a census of all non-international racial minority students (N=2,488) and a random sample of all remaining White and International students (N=2,500). The BHP use a web based survey application (Qualtrics ®) for data collection; this method has a relatively low cost, and provides a great deal of convenience for respondents (e.g., anonymity, accessibility by students, ability for students to complete the survey at their own pace and location of choice). The data were collected from March 10th to April 7th. Of the 4,988 sampled, 1,426 students responded to the survey, for an official response rate of 28.5 percent. The survey had a 97 percent "start-rate," a 76 percent completion rate, and the average length of the survey was 12 minutes. Keeping only those respondents who completed at least 75 percent of the survey brings the final working sample size to 1,383, including 657 (48%) non-white racial-ethnic minority, and 726 (52%) White and international students.
The Effects of the Sampling Design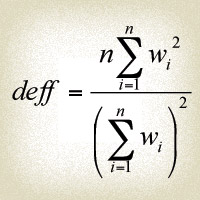 The BHP employed a disproportionate stratified sampling design which increased the probability of racial minorities being selection. This requires that the sampling errors related to the BHP's findings reflect our departure from a simple random sampling design - where each element (i.e., student) has the same probability of being selected.
Download the .pdf file
Weighting the Data
Weighting is generally used in survey analysis to compensate for sample designs and patterns of non-response that might bias results. The BHP sample was weighted to match UD's full-time Newark campus student population parameters related to selected demographics. A two-stage weighting procedure was used to weight the BHP data.
The first stage of weighting corrected for different probabilities of selection associated with the number of students in each racial-ethnic group. This is called the sampling weight, and it is equal to the reciprocal of the selection probability. If the selection probability is .05 (or 1/20 or 5%) then the weight would equal 20 (20/1, or "twenty over one"), which is akin to counting that observation twenty times in the sample. An element with a selection probability of .80 (or 8/10 or 80%), meanwhile, would only receive a weight of 1.25 (10/8 or "ten over eight"). The higher the weight, the more the group is taken into account in the analysis, and vice versa.
The second stage of weighting balanced sample demographics to population parameters. Typically all cases count equally in a sample (weight =1), but when respondents are disproportionate to the population, adjustments are needed. This is known as the post-stratification weight, and it adjusts for biased response patterns among groups, or "strata." For example, if only 45% of respondents were men (55% women), but the population actually contains 65% of men (35% women), then a new weight equal to the population proportion over the sample proportion. The weight for men would raise their presence in the statistics (.65/.45 = 1.44) and the weight for women would lower their presence (.35/.55 = .64). A single post-stratification weight was created to match UD population parameters for race-ethnicity, sex, academic class, and state residency (Delaware and non-Delaware).
The sampling and post-stratification weights were combined to form a final weight, which is included in the dataset as the variable named weight. For accurate estimates and inferences using the BHP, the data must be weighted. Table 1 compares weighted and unweighted sample distributions to population parameters.
Table 1 Compares weighted and unweighted sample distributions to population parameters.
Demographic
Weighted
Unweighted
Parameter
Race-Ethnicity*
Whites

77%

52%

77%

Blacks

4%

13%

5%

Hispanics

3%

9%

3%

Asians

8%

10%

8%

All Other Categories
7%
15%
7%
Gender
Females

58%

64%

58%

Males

42%

36%

42%

Class
Freshman

21%

23%

21%

Sophomores

25%

26%

25%

Juniors

23%

21%

23%

Seniors

32%

30%

32%

State Residency
Non-Delaware Resident

64%

57%

64%

Delaware Resident

36%

43%

36%

* Race-ethnicity proportions are based on Feb 2013 enrollment.
Margin of Error
There are approximately 14,487 full-time undergraduate students enrolled at the University of Delaware (Newark, DE campus). For results based on 1,380 respondents, one can say with 95% confidence that the maximum error attributable to sampling (i.e., the "margin of error") is + or - 3%. In addition to sampling error, factors such as question wording and order, and other practical difficulties in conducting surveys can introduce some error or bias into the findings of public opinion polls.