UDaily is produced by the Office of Public Relations
150 South College Ave.
Newark, DE 19716-2701
(302) 831-2791

Peace vigil offers solace two years after 9/11

Click here to see a slide show of 9/11 commemorative events.

10:38 p.m., Sept. 11, 2003--On Thursday evening, hundreds of students, faculty and community members gathered on The Green at UD for a 7 p.m. peace vigil held to mark the two-year anniversary of 9/11.

Following opening remarks by Kim Zitzner, a representative from the Thomas More Oratory, the Catholic ministry on campus, The Green filled with tiny points of light as approximately 1,500 participants—most of them students—lit each others' candles and joined together in a period of quiet reflection.

"Candlelight vigils are a way people gather to be in community," Ms. Zitzner said in her opening address. "In doing so, we express our faith, our concerns, our spirituality, and we show our support for loved ones as well as for issues of social justice.

"Tonight, we have gathered in front of Memorial Hall. Many of you know this building as a place where classes meet or professors' offices may be found. However, Memorial Hall was built to remember those who gave up their lives in war in our history. The Green has become a sacred place on many evenings throughout the years for students, faculty, staff, administrators and community members to gather and share in times of remembrance [and] healing, and to be in community through the critical times in our lives," Ms. Zitzner said.

The interfaith vigil, which included comments from Catholic, Jewish, Muslim and Protestant representatives, continued with remarks from Grant Wolf, a representative from the Baha'i community; Father Michael Szupper of the Catholic campus ministry; S. Ismat Shah of the Muslim Student Association; Susan Detwiler of Hillel; and Rabbi Eliezer Sneiderman of Chabad Center for Jewish Life.

Rabbi Sneiderman made the point that a tidy closure to 9/11—however much it might be hoped for—isn't really possible, and that healing is an ongoing process. "I thought I was over 9/11. I thought I had moved on," he said. "I thought I agreed with my colleagues that we need to pause, reflect, but that the focus should be about moving on."

He said he realized he was not over 9/11when he experienced a strong emotional reaction to the sound of the campus carillon chiming Thursday morning, to mark the times when planes crashed into the World Trade Towers in New York City and the Pentagon in Virginia.

"We have done a good job of moving on. There are few images to remind us of what happened. On the other hand, it feels like there is more bloodshed, more hate, more violence. We need a peace vigil because there is so little peace. Conflict seems to be increasing, solutions seem farther away. How can we change things that seem so out of our control?"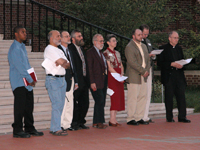 Members of the Religious and Spirtiual Life Concerns Caucus gather on the north side of Memorial Hall for the 9/11 peace vigil. Pictured, from left, are Jordan Ballard, UD senior who sang 'This Is My Song'; S. Ismat Shah, Muslim Student Association; Grant Wolf, Baha'i; Rabbi Eliezer Sneiderman, Chabad Center for Jewish Life; Pastor Bruce Heggen, Lutheran Student Association; Susan Detwiler, Hillel; David Blackwell, Blue Hens for Christ; Rev. Jay Angerer, Episcopal Campus Ministry; and Father Michael Szupper, Catholic Campus Ministry.
Mr. Wolf continued this reflection with his remarks. "The events of Sept. 11, 2001, were motivated by hatred and anger—an anger born of a sense of separateness, of 'otherness,' a feeling that we can somehow separate ourselves into adversarial groups of nationalities, cultures and, worst of all, religions, and that we can somehow 'defeat' the other group and thus achieve our goals," he said. "A thought of hatred must be destroyed by a more powerful thought of love. The Earth is but one country and mankind its citizens."
Father Szupper added to the reflective theme. "We wonder: 'Why are people of good will so estranged?'" he asked. "Is it not possible to follow the God of love without hatred of others?"
Prof. Shah read from Khalil Gibran's poem "The Path," which tells the story of doubt and the discovery of faith, and Jordan Ballard, EG 2004, sang "This Is My Song," that praises nature and asks for peace.
The service concluded as it began, with remarks form Ms. Zitzner, followed by a moment of silence.
"We come together on the anniversary of great tragedy and sorrow—yet we have hope for the future, and seek peace in our hearts and in the world," Ms. Zitzner said. "As we look with hope toward a future of peace, we also look for words of comfort and wisdom to guide us."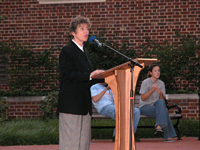 Kimberly Zitzner of St. Thomas More Oratory offers opening remarks at the vigil.

She closed the vigil with words of inspiration written by the Dalai Lama in the wake of 9/11.

"'Today the human soul asks the question: What can I do to preserve the beauty and wonder of our world and to eliminate the anger and hatred?'" she quoted. "'A central teaching in most spiritual traditions is: What you wish to experience, provide for another. Look to see, now, what it is you wish to experience—in your own life, and in the world. Then see if there is another for whom you may be the source of that. If you wish to experience peace, provide peace for another. If you wish to know that you are safe, cause [others] to know that they are safe. If you wish to better understand seemingly incomprehensible things, help another to better understand. If you wish to heal your own sadness or anger, seek to heal the sadness or anger of another. Those others are waiting for you now. They are looking to you for guidance, for help, for courage, for strength, for understanding and for assurance at this hour. Most of all, they are looking to you for love.'"

As darkness fell on The Green, small clusters of students remained seated, their candles still flickering in the breeze. An American flag fluttered between the columns of Memorial Hall.

Article by Becca Hutchinson
Photos by Kevin Quinlan
E-mail this article
To learn how to subscribe to UDaily, click here.

[an error occurred while processing this directive]