UDaily is produced by the Office of Public Relations
150 South College Ave.
Newark, DE 19716-2701
(302) 831-2791

Blood drive one of UD's best ever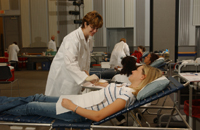 Phlebotomist Megan Crum collects a unit of blood donated by freshman Kathryn Smith.

8:55 p.m., Sept. 11, 2003--It began at 10 a.m., with a little crowd of donors waiting outside the multipurpose room of the Trabant University Center for UD's Sept. 11 blood drive to begin.

By mid-afternoon, all the donor stations were full, and dozens more were waiting to do their part to make the first blood drive of the fall semester at UD a success.

Shay Robb, school program and blood drive coordinator for Blood Bank of Delaware/Eastern Shore, said that donations from 120 donors had been processed.

"This is one of the biggest blood drives ever at UD," Robb said. "It was great. People were patient about having to wait, and everybody was great in doing their part."

Kevin Hazleton, a senior criminal justice and philosophy major from Port Jefferson, Long Island, N.Y., and president of Sigma Chi, sponsor of the blood drive, said that this is the third straight year that the fraternity has sponsored the event and worked the canteen where donors take a 15-minute rest and have a bit to eat and drink before heading out on campus.

"We just happened to be scheduled to be the sponsor on Sept. 11, 2001," Hazleton said. "Nearly all of our 45 brothers have turned up here during the day to take half-hour shifts. We love doing it, and we are excited about doing it."

While Sigma Chi volunteers were assisting donors who had already given blood, students waiting to donate shared their thoughts on why they turned out for the day's event.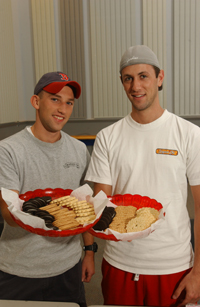 Sigma Chi fraternity brothers Nathan Mitchell, AS 2005, (left) and Jonathan Sandurs, BE 2004, staff the canteen, serving snacks and beverages to those who donated blood.
"I like to do something that helps the community," Melissa Ames, a sophomore from Lansdale, Pa., said. "I do this a couple of time a year. I just like doing it. I feel like I'm doing my good deed."
U.S. Marine Pvt. 1st Class Travis Duke, a sophomore sociology major from Gibbstown, N.J., said he sees participating in the blood drive as a way to support fellow Marines serving in places like Iraq and Afghanistan.
"A lot of Marines have shed their blood overseas, and this is my way of doing what I can back here," Duke said. "As a Marine, I want to do everything I can for my country."
Duke also said he was glad to see the large number of people turning out for the blood drive on Sept. 11.
"I'm glad that people still remember Sept. 11," Duke said. "I'm glad to see the American spirit still lives on at UD."
Article by Jerry Rhodes
Photos by Duane Perry
E-mail this article
To learn how to subscribe to UDaily, click here.

[an error occurred while processing this directive]