OUR APOLOGIES
CALENDAR OMISSION
The 2018 Messenger calendar did not include Ash Wednesday, Good Friday and Easter, an unintentional oversight for which we offer our sincerest apologies.
IMPROVED GRADUATE RANKINGS
The graduate rankings listed in the "Blue Hen Bragging Rights" ("Mending Bodies," p. 14) were from the previous year. Three UD programs had improved rankings for 2017-18: Chemical Engineering (6), Public Affairs (32) and Psychological and Brain Sciences (66).
STUDY ABROAD CAPTION
A caption in December's Table of Contents showed students participating in a study abroad trip involving the College of Agriculture and Natural Resources. The students were primarily studying animal science and sustainable agriculture on the trip, not biology and geology.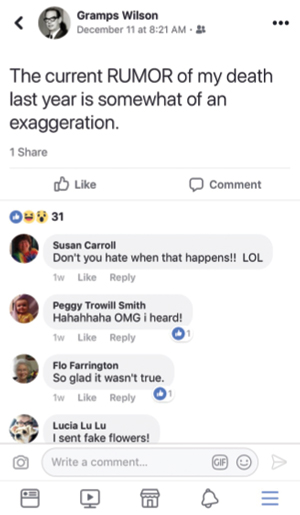 STAYIN' ALIVE
Robert J. Wilson, AS56, of Milford, Conn., did not pass away on Feb. 22, 2016, as incorrectly noted in the last issue of Messenger. He is still alive, in good spirits and has been assuring friends that reports of his death are greatly exaggerated. "I got a big kick out of it," he says of the misprint. "It's the craziest thing that's happened to me in years!"
* * *