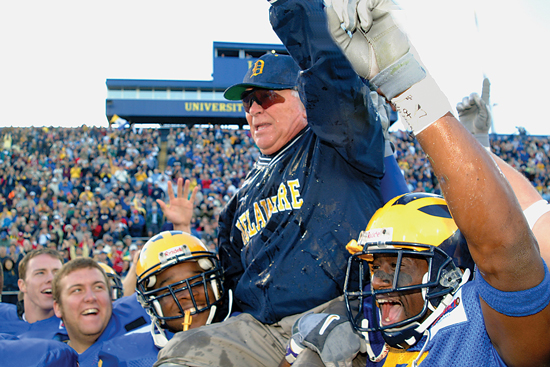 Remembering a Legend
Celebrating the life and legacy of Coach Harold R. "Tubby" Raymond
He could be tough as nails. His spring practices were spirited, his training camps were brutal, but Saturdays were fun—because most afternoons, his players walked off victorious.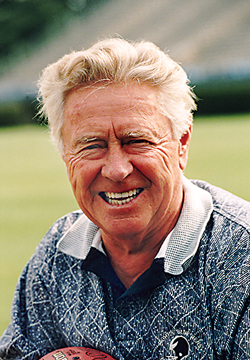 He taught them humility in victory, and grit in defeat. His lessons on the field were lessons for life: determination, perseverance, discipline, integrity, teamwork.
He was unselfish. At banquets, he'd draw up plays on napkins to share with other coaches.
He was funny, but boy, did he hate to lose. He could see the game through the eyes of his quarterbacks, with play-calling magic to propel the entire team. His tricky Wing-T offense relied on precision, so if any player was even a few inches out of place, he knew. His meticulous attention to detail led to 300 wins—and hundreds of hand-drawn portraits he gave to seniors starting in 1956. He was admired, beloved, respected. He was ours.
And UD was his, forever. "I'm the happiest guy in the world," he said after his 300th win. Turning to the fans, he added, "The thing that is there every time is you."
On Dec. 8, 2017, the Blue Hen community bid farewell to Harold R. "Tubby" Raymond, a man who was, in the words of his son David, HS79, "the living, breathing embodiment of this University."
Born in 1925, Harold R. Raymond grew up in Flint, Michigan, and graduated from the University of Michigan in 1950. Affectionately known as "Tubby," the two-sport collegiate athlete began his coaching career right out of college in 1954 as assistant football coach and head baseball coach for the University of Delaware, posting a 71.5 winning percentage and leading six of his nine baseball teams to qualify for NCAA-District II playoffs. In 1966, Tubby was hand-picked by his predecessor and fellow College Football Hall of Famer David Nelson to serve as head coach for the Fightin' Blue Hens, where he would record one of the greatest careers in college football history.
Devoted Blue Hen fans were eager to share their memories and thoughts about Tubby Raymond. Here's a sampling of what they said:
"Tubby's notion was, 'You get knocked down, you get the hell up. Never complain, never explain. Work hard, play by the rules, treat people you're with with dignity and respect. Most of all, cover your team.'"
JOSEPH R. BIDEN, AS65, 04H
Played on the 1961 Delaware freshman football team
"He had our backs, so we always had his."
LEON CLARKE, EHD03
Blue Hen cornerback, 2000-2003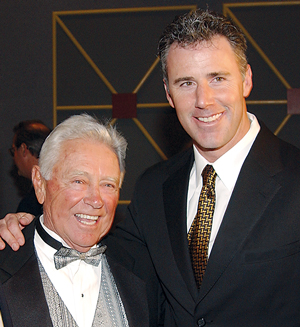 "I would not have played 17 years in the League without the experience I had at Delaware and without Coach Raymond mentoring me, encouraging me and really developing me."
RICH GANNON, AS87
Delaware All-American, veteran All-Pro NFL quarterback and current CBS analyst
"He could snarl and grown men would shut their office doors and disappear. But he was fiercely loyal."
MARY HECKER
Coach Raymond's administrative assistant, 1990-2002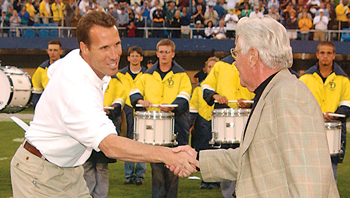 "Everyone wants to talk about 300 wins, three national championships. But his greatest contribution was creating a culture that we knew as success. It was a culture of camaraderie, of pride. We did things the right way. We went to class, we contributed to the community. I was blessed. I understood the responsibility of following him."
K.C. KEELER, HS81
Former Blue Hen linebacker and head football coach
"He read everything and knew what was being reported. He'd also have a humorous response to questions that weren't so brilliant or insightful. He had this oft-repeated line—'an enterprising young journalist might want to know'—when he wanted to hint at a subject we should be curious about. Those of us who covered his teams still frequently utter that phrase. It will be our everlasting tribute to Coach Raymond."
KEVIN TRESOLINI, AS80
Covered UD football for the Delaware News Journal for 19 years