The University That Almost Wasn't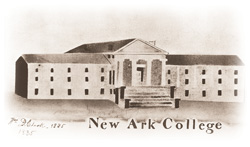 Looking at the University of Delaware today—throngs of students, expert faculty, handsome old buildings, global reach—it all feels so permanent, so immutable. Our 275-year history, though, tells a different story, one of near-death experiences and even closures. It took perseverance and dedication to not only survive but thrive.
Our first brush with death came near the beginning of the Revolutionary War. In 1777—just 34 years after the Rev. Francis Alison founded his Academy in Pennsylvania and about 15 years after it had settled in Newark—there were no students because nearly all young men in the region had been drawn into the rebellion. When the British army marched through Newark on Sept. 8, they found the school empty. Most of the Academy's endowment, its original charter and other records had also disappeared.
In 1780, however, Newark residents and the few remaining Trustees re-opened the Academy. To educate the children of our new nation, they envisioned the school as a patriotic, rather than strictly religious, endeavor. Still, the school struggled in the postwar depression, and in 1796, with just four students and a dilapidated building in the center of Newark, it closed until citizens could revive it once again in 1799.
For many years, one of the school's greatest accomplishments was simply keeping its doors open in an education marketplace crowded with rivals, all competing for a limited supply of students and funding. In 1833, the Trustees secured a state charter for an institute of higher education—Newark College—while continuing to educate children at the Academy. It started small—only four students graduated at Newark College's first commencement in 1836—so to broaden its appeal, Newark College was renamed Delaware College in 1842. While its graduates went on to become congressmen, judges, professors, ministers and other distinguished citizens, Delaware College lacked steady leadership. During the 1850s, the school churned through seven presidents, including one who launched a disastrous scholarship scheme that let students attend for just $5 a year in tuition. Five dollars went farther back then, but not that far. So in 1859—nearly bankrupt with just two professors, a dwindling student body and only one student ready to graduate—Delaware College closed its doors, with little hope of revival.
The Trustees, however, kept one little ember burning. They preserved the Delaware College charter by appointing Chairman Rathmell Wilson as acting president. He collected no salary and presided over an institution that existed in name only.
It was the federal Morrill Act of 1862, signed by President Abraham Lincoln, that would offer Delaware College a chance at new life. The Act created land-grant institutions in each state, providing money and a mandate for the Trustees and the state to resurrect Delaware College in 1870. With that designation, the college had more stable funding and a clear mission: Provide an affordable and practical education to the sons of farmers and factory workers, pursue research in every field and do it all in service to the community.
In the coming decades, Delaware College secured more funding, better teachers, new academic buildings and, most importantly, more students. The Women's College opened in 1914 and joined Delaware College in 1921 to become the University of Delaware. Today, UD continues to grow in size, scope and stature, offering a top-notch education and innovative research with global impact.
But without the diligence and hard work of people who kept Rev. Alison's vision alive, it might have never been.