Lore and Legends
After 275 years, UD's legendary tales live on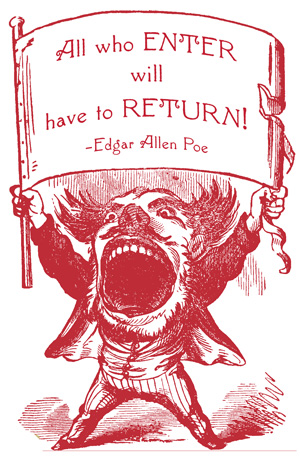 In its 275-year history, UD has had its share of timeless lore, tales that have been retold and reshaped, re-emerging as an amalgam of reality, rumor and fantasy. They are stories of ghostly apparitions, mad geniuses and gun-toting soldiers. Wishful embellishments and romanticized traditions. True foundations, false assumptions.
But in these legends—whether fable or fact—there is enduring proof of a different reality: That we are proud and eager to embrace our past, that we celebrate (and even create) traditions to help define our unique character. Ask a Blue Hen whether these legends are thoroughly and indisputably true, and they may answer: "It doesn't matter. They are ours."
THE KISSING ARCHES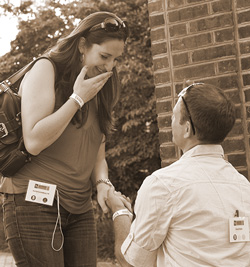 For decades, romantically inclined UD students have heard (and heeded) the tradition that couples will be blessed with marriage if they kiss five times beneath the triple brick arches adjacent to Memorial Hall. They are reminded that this is where lovers parted with a kiss when UD was divided between the all-female campus along the South Green and the all-male campus farther north.
"Unfortunately, we don't have proof of that," says UD's encyclopedic archivist Lisa Gensel, AS01M, coordinator of University Archives and Records Management. "You didn't even have the arches until very late in the era of the men's and women's campus around 1940. Men were always allowed to escort their dates to the women's campus. I think it's apocryphal."
Yet to this day, and surely into the future, the kisses continue, along with their promises of eternal love.
THE PROPHESY OF POE
In 1843, Edgar Allan Poe visited Newark and presented a lecture in the Academy Building. Whether inebriated and tipsy, or just plain clumsy, the temperamental author fell into a muddy hole on a Newark street and later was tossed out of the St. Patrick's Tavern for failing to pay his bar bill. Upset with his bad luck and the small town's inhospitable citizenry, he is said to have put a curse on the historic inn, which burned to the ground several years later. Others contend that he focused his ire on the customers, saying, "All who enter will have to return," a prophesy fulfilled by countless students and alumni. Today the Deer Park Tavern, as it is now known, claims to host Poe's ghost.
An unverified report, considered fake news, states Poe agreed to speak at the small Delaware college only because he wanted to visit the nearby "Ticking Tomb", which some claim was the inspiration for his famed story, "The Tell-Tale Heart." (Purists say this is impossible, since the story was published in January 1843, eleven months before his visit to campus.)
A RUB FOR LUCK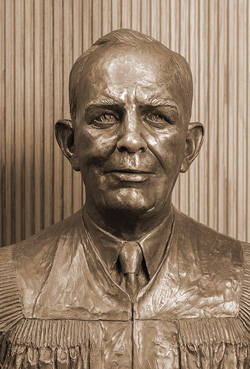 The gleaming proboscis on the bust at the entrance of Morris Library—"Club Morris," in social media vernacular—testifies to the countless touches of passing students, all hopeful that the legend is true: To get a good grade on an exam (or just hedge against academic misfortune), rub Hugh's nose.
Hugh would probably be elated with the good intent. Judge Hugh M. Morris, AS1898, 1928H, was a longtime Board of Trustees member and champion of student success who helped oversee a five-fold increase in UD's size and enrollment.
NUCLEAR AGE
The basements of UD buildings are not generally known as fascinating places, but one facility must have at least seemed a little more awe-inspiring a few decades ago. Somewhere in the lower reaches of DuPont Hall, which is home to the College of Engineering, a small nuclear reactor was once operated for research purposes, churning out a puny 0.1 watts of power.
Installed in 1957 or 1958, the reactor was decommissioned in 1979—just a month before the Three Mile Island accident.
THE BRITISH ARE COMING!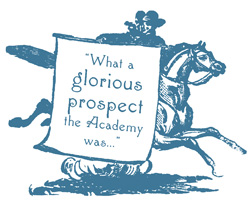 The year was 1777, and the Academy of New-Ark had just been shut down after word reached townsfolk that the British had landed by ship at nearby Elkton, Maryland, intent on marching through Delaware and capturing Philadelphia. On Sept. 8, five days after battling the Rebels at Cooch's Bridge south of Newark, the British broke camp "by the light of a remarkable borealis" and headed for town, marching up Academy Street toward Main.
At 7:15 a.m., as the British approached the intersection where the predecessor to the Academy Building stood, the cobblers there paused from their task of making shoes for Rebels and took a few shots at the Redcoats, with no casualties on either side, according to several accounts.
The Academy would fare even worse, languishing for years thereafter, its assets seized by the British. "What a glorious prospect [the Academy was], before a barbarous invasion shattered our prospects," one former student wrote at the time.
SECRET SOCIETY
Many have heard of Yale's Skull and Bones. Others are still waiting to hear solid proof of UD's so-called secret society: Petal and Thorn. According to researchers who are preoccupied with such matters, letters discovered in 1996 in the estate of A. Felix du Pont Jr. revealed that Petal and Thorn was founded in 1927 by du Pont's friends at UD, with a mission statement to "have control of the politics" of the University through 10 influential seniors.
"We have much proof that people have talked about it. We have a reference file for it. But we have no proof that any such thing exists," Gensel says.
RIOTS AND FIRES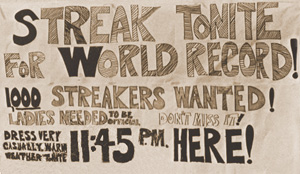 Considering UD's reputation as a distinctly placid place, stories of unrest in the 1960s and 1970s seem more suited to a more notorious hotbed of radicalism. In fact, just two of the three most violent incidents from the era had anything to do with the Vietnam War; the other had more frolicsome origins.
In September 1968, amid ongoing campus opposition to the fighting, two students tossed four Molotov cocktails through a window at Mechanical Hall (then used by the ROTC), setting fire to clothing in a storage room. In April 1972, five firebombs were tossed through a window of University President E.A. Trabant's office in the early hours, damaging the interior but causing no injuries.
The most renowned incident would occur in March 1974, when hundreds of students attempted to join the great American "streaking" fad by running naked from the Perkins Student Center to the Deer Park. At their destination, the group quickly grew uncontrollable, throwing objects at police and vandalizing cars. Eventually tear gas would be needed to control the crowd of 4,000. Ten officers were injured in the riot.
RAINY TUESDAYS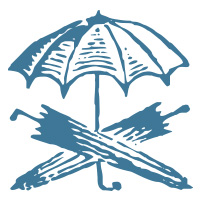 It started on social media, trending amongst current students, this idea that heavy rainfall always seems to land on a Tuesday. It "sounds ridiculous, but it's true," Paula Salvador, AS19, remarked in a blogpost titled, "10 things I wish I knew before freshman year at UD."
For those who traverse the campus on a regular basis, her anecdotal evidence seems almost scientific. Now, UD's own Environmental Observing System for the state (www.deos.udel.edu) confirms it. In a Messenger-prompted study examining the day of the week and percentage of precipitation in Newark's campus over the last 11 years, Tuesdays saw the most rainfall—38 percent, versus 34 percent for all weekdays, and only 30.5 percent for weekends.
"I'd never heard of Rainy Tuesdays, and my first instinct was to say there's probably no real difference," says state climatologist and DEOS co-director Dan Leathers. "But sure enough, Tuesdays are the rainiest, and that higher mid-week precipitation holds true for the entire area."
Although Leathers adds that there's no definitive scientific reason for this phenomenon, he has read other studies suggesting it might be due to heavier weekday activity and increased heat energy in the atmosphere.
OUR CHARMING CHICKEN
During the American Revolution, a gritty Delaware fighting unit became known for its brave spirit, as well as for staging cockfights with a breed of chicken known as the Kent County Blue Hen. Soon, the entire First Delaware Regiment would become known as "The Blue Hens' Chickens" for their ferocity and tenacity, an attribute sustained by UD's sports teams since they adopted the name in 1911. The moniker has morphed over the years, from Belinda in the 1950s, to Fightin' Dick a decade later, to YoUDee, as it's known today.