An American Story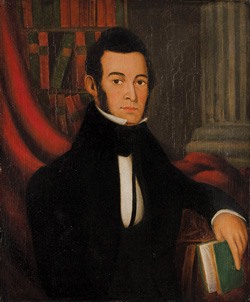 He was by all accounts a brilliant and ambitious young man, the kind of student who is driven to go further, reach higher, dig deeper. He certainly was a brave young man, unafraid to challenge racial injustice, eager to help others do the same. He also happened to be a black man—an American whose own country scorned him; a human whose humanity was forsaken in his homeland.
So when Isaiah George DeGrasse graduated from the Newark College's first class in 1836— becoming one of the earliest black graduates of what would become a flagship university—it was a moment that could have been forever embraced with pride.
But it wasn't. The story of DeGrasse's graduation would begin to fade even before it happened, quietly withering through the generations, even as the old Newark College grew to become the University of Delaware. By the time UD was partially opened to black students in 1948, he wouldn't even stand as a footnote to that tumultuous transition.
In the 112 years between his graduation and that partial desegregation, DeGrasse would be the only known black student to walk the paths of the school. Now, thanks to UD scholars and staffers, his remarkable accomplishment is getting its due.
A study by Ian Janssen, UD's director of University Archives and Records Management, details the motivations behind DeGrasse's quest, as well as the reasons for the school's quiet approach to his presence. And in the Art Conservation Program, a more-than-170-year-old portrait of DeGrasse has been carefully analyzed in an effort to ensure its survival.
"What I liked most about this project was that it helps in some way to recognize an individual who was largely forgotten and relegated to a small part of UD's story," says Janssen. "It's important to remember the things that have happened and the people who were here."
At the time of his graduation, the story of DeGrasse's attendance would have likely caused more outrage than applause, and so was not publicly noted, Janssen explains. In a slave state such as Delaware, his presence could have even incited violence, despite the fact that DeGrasse was of mixed heritage and reportedly had a complexion indistinguishable from his white classmates, Janssen notes. At the same time, the University was undergoing tumultuous times itself, and feared publicity about DeGrasse's presence could have threatened crucial financial and community support.
Those feelings might not have been softened had they known DeGrasse's reasons for attending.
Born to a successful and upwardly mobile family in New York City, DeGrasse's dream was to challenge the status quo of the Protestant Episcopal Church and become a fully ordained minister. Starting his studies at Geneva College (now Hobart and William Smith Colleges), he was nearing graduation when he transferred to the Newark school at the same time that Geneva's president, Richard Sharpe Mason, was hired to rescue the Newark College from internal troubles.
After just one semester, he graduated, returning to New York and eventually becoming ordained as a deacon by the church. Opposition to his position would persist, however, even as DeGrasse worked to expand opportunities for black students on Long Island.
DeGrasse would ultimately leave New York—and America itself—for Jamaica, where it is believed he intended to work as a missionary. Within weeks of his arrival, however, he caught yellow fever. On Jan. 11, 1841, at age 27, DeGrasse passed away.