Redefining the future of healthcare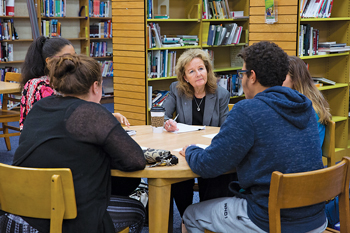 Photo by Ashley Barnas
CAMPUS | Diversifying the healthcare workforce and preparing the next generation of health science professionals doesn't begin with today's undergraduates—it starts with tomorrow's. Which is why Kathy Matt, AS75, 78M, now finds herself traversing old, familiar halls.
As dean of the College of Health Sciences, Matt has spent a portion of her fall semester at her alma mater, Newark High School, teaching an Intro to Health Sciences course to 26 juniors and seniors. They represent the newest cohort of UD's College of Health Sciences Pipeline Program, a three-credit course designed to expose underrepresented middle and high school students to the breadth of healthcare career choices as well as the rigors of higher education.
"These students are the ones who will help us reimagine what effective healthcare looks like," says Matt, who encouraged the upperclassmen to develop and present their own solutions to a variety of public health problems, which ranged from mobility assistance for the elderly to innovative strategies to address food insecurity.
Now in its second year, the Pipeline Program also includes a mentorship component, health sciences summer camp and numerous field trips to the UD campus.
"If we're going to be successful in addressing healthcare work force issues, we need the best and brightest Delawareans from all backgrounds studying at UD and entering the local work force," says Pipeline Program Coordinator Alyssa Benjamin, HS16.