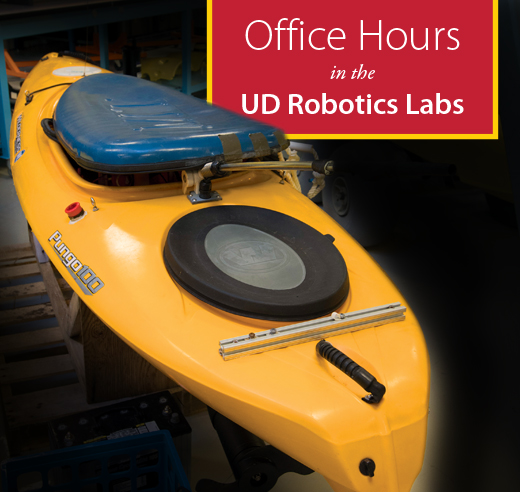 Photo by Kathy F. Atkinson
CAMPUS | On any given day, Matt Oliver's office could be practically anywhere on earth. Sometimes it's 7,867 miles from Newark, bobbing in the near-freezing waters off Antarctica. Other times, he might be working on the heaving deck of a research boat in the Atlantic, trying to implant a tracking device into the belly of an agitated 6-foot sturgeon.
Or, if he's in luck, this intrepid marine science professor could even find himself sitting in the comparative calm of UD's Robotic Discovery Laboratories in Lewes, where he and his squad of postdocs and grad students continue their maritime investigations with the help of high-tech transmitters and satellite-linked communications.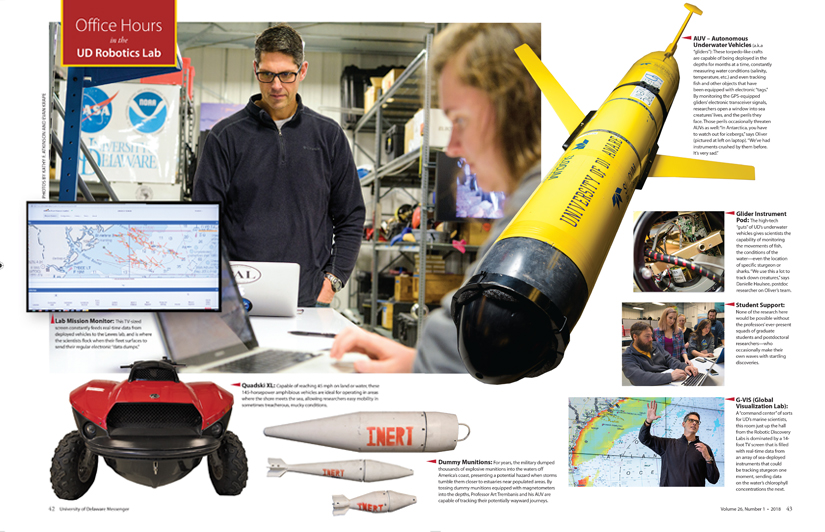 No matter where they are, the lure of the sea never seems too far away for Oliver and the two professors who share this 4-year-old, warehouse-sized space on the Hugh R. Sharp Campus in Lewes, Delaware. Stuffed with state-of-the-art undersea robots, well-used wetsuits and shelves full of electronic gear, the lab serves as home base for UD's broad efforts to help humans coexist more beneficially with the nearby ocean and its inhabitants.
Just a few steps from Oliver in the lab, Art Trembanis launches efforts to map the sea floor after storms, or even hunt for sunken ships and lost aircraft. Next door, Mark Moline—director of UD's School of Marine Science and Policy—keeps close watch on the populations of plankton so crucial for life's ceaseless cycle.
"In summertime, Art Trembanis' lab is going out three or four times a week," says postdoctoral researcher Danielle Haulsee, EOE17, who has already achieved some fame for her research on sharks' "social networks."
"And if we're going to the poles, we're out a very long time," adds Oliver, who is the Patricia & Charles Robertson Professor of Marine Science & Policy.
Long after the scientists return, dozens of UD's autonomous underwater vehicles—torpedo-shaped, battery-driven vessels—cruise day after day just off our shores, sending back data through the airwaves. "Before these robots, you'd be out for weeks at a time, taking these readings," Oliver says.
Join us now as we dive deeper into the salty, seafaring world of UD's Robotic Discovery Labs.