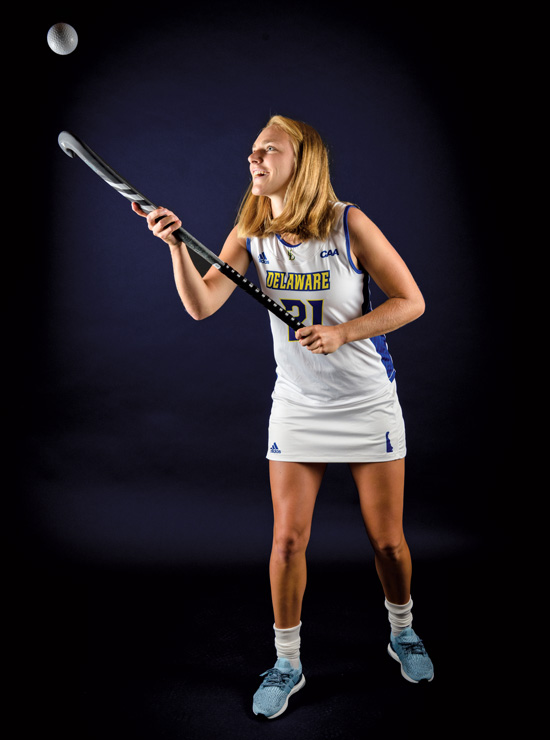 Greta the Great
CAMPUS | Truth be told, Greta Nauck doesn't seem all that impressed with the things Greta Nauck has done. Those all-time Blue Hen scoring records she holds? No biggie. That reputation as one of the greatest field hockey players in the nation? Whatever. But talk to this 22-year-old business management major about her teammates—the enduring kinship, the high-rev pre-game locker-room banter, the national championship they snatched together in 2016—and her blue eyes come alive.
UD's most acclaimed active student-athlete gets her biggest kicks when she's part of something bigger than herself—when her considerable skills help bring glory to the people she loves, and the team she worships.
"My teammates are my best friends, my family. When I put on that jersey that says Delaware, I get goosebumps," says Nauck, BE19, as she relaxes in Blue Hen sweats 3,830 miles from her home in Krefeld, Germany, and talks about her uninspiring experiences with tennis ("too self-focused"), her newfound campus celebrity ("I even get fan mail."), and those Thanksgiving feasts at teammates' homes ("We don't have that in Germany.").
Still, to understand how her selfless dynamic has helped vault the entire UD squad from also-ran to a national field hockey powerhouse, no one can ignore the extraordinary individual excellence of this unassuming, genial-but-methodically-devastating collegiate superstar.
Since taking her first haphazard swipes with a hockey stick at age 4, Nauck has helped drive four teams on both sides of the Atlantic to national championships, capped by UD's stunning NCAA Division I title. When it was time to choose between higher education and sports (a common dilemma in Europe), Nauck could have had both at any number of elite American universities.
She chose to be a Blue Hen.
"I was in contact with many schools, but UD was my favorite right away," she says. "[Head Coach] Rolf van de Kerkhof was the only one who said, 'I want to Facetime with you and your parents.' It was clear he was very family oriented, and that was very important to me."
After all, it can't be easy being one of seven Blue Hen Field Hockey imports from two nations (Holland and Germany) who have to acclimate to the peculiarities of playing for a U.S. school in a decidedly strange U.S. town. There are moments when it hurts—like thinking of times with her brother Nicki and mother Helga, herself a tennis champion. She feels it when she sees the other players' parents at games—that heaviness, that longing.
But when van de Kerkhof vowed to his young athletes that his mission was to create a Top-10 team out of a Top-20 team, she felt those emotions being replaced by an ember of passion.
"I knew we could make the Final Four.
I could just feel it."
And her teammates could feel it growing within her, that hunger and drive that would ultimately help feed their own passions, fuel their own successes. That, for her, is the beauty of The Team. "I've always liked being surrounded by others. It's getting energy, but also giving energy," she says. "It's pure emotions, and being able to share those emotions with 24 others is very, very special."