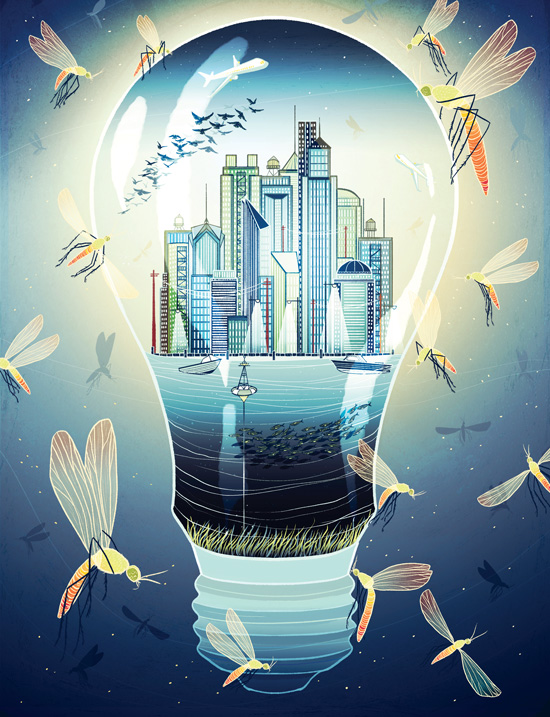 Illustration by Kailey Whitman
How many scientists does it take to change a lightbulb?
ALUMNI | For more than a decade, Travis Longcore has worked to illuminate the sometimes-deadly impact that our brightly lit cities and shorelines have on nature. Now, the UD alumnus is putting a focus on using lights to soften nature's deadly impact on humankind.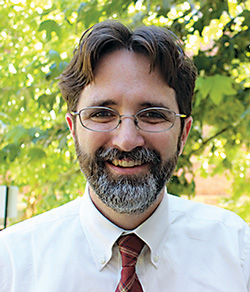 In research that could help prevent some of the insect-borne diseases that sicken or kill millions of people annually in developing nations, Longcore and his colleagues have shown that customizing the wavelengths of LED lights can reduce the number of insects entering homes through windows that often lack glass or screens.
Fewer insects mean fewer bites. And fewer bites mean less disease.
"There is enormous potential in reducing exposure to [disease] vectors by a small percentage, and even a small percentage is a lot of people," says Longcore, EOE93, now an assistant professor of architecture, spatial sciences and biological sciences at the University of Southern California. "Spectrum is a hot topic in lighting now."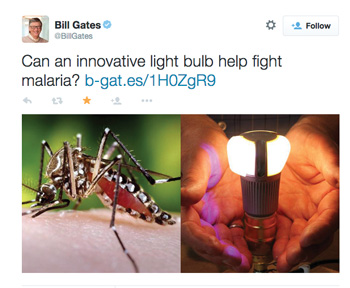 It's also a characteristically innovative approach by a scholar who has spent his career studying the frequently disruptive collisions between humans and nature in and around big cities, looking for ways to make that relationship more beneficial to both.
Longcore's writings helped make "ecological light pollution" a new and growing field of ecological study, revealing that the nightly glow from our cities can disorient and disrupt animals' efforts to forage, reproduce and communicate. And it was his work advising policymakers that helped raise awareness of the many migratory birds that die in collisions with communications towers.
In his research on LED lights—considered an affordable and effective lighting source in much of the developing world—Longcore and a group of undergraduate students showed that adjusting the level of blue light being emitted by these bulbs can make them less irresistible to the mosquitoes that routinely swarm around them and the people nearby. His experiments in the Los Angeles area using fluorescent lights, commercial LED lights and special "tuned" LED bulbs from a collaborator at Phillips Research resulted in a 20 percent decline in the number of attracted insects.
In areas of the world that are more prone to bug-carrying bugs, that reduction could be a powerful way to fight malaria, which kills 584,000 people annually, and Chagas disease, which infects 6 million people a year and can lead to heart failure.
Longcore is now investigating how this "tuned lighting" might benefit animal species the world over. In the Pacific Northwest, studies have shown that dock lights are disorienting fish and disrupting their internal clock, stressing the animals and making them more vulnerable to illness. In Hawaii, the population of the threatened Newell's shearwater bird has plunged by 94 percent since the 1990s because airport and harbor lights have disoriented the seabirds, which crash into buildings or fly in circles until they plummet from the sky due to exhaustion.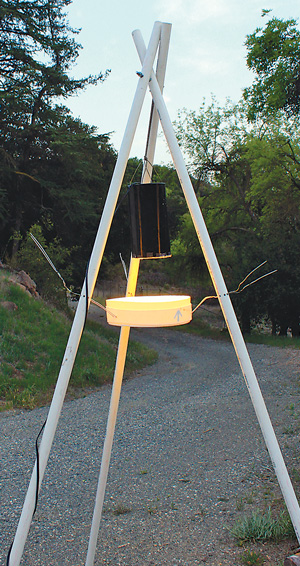 Photo courtesy of Trevor Longcore
"We have these places where lights have to be on, but if we can control parts of the equation—spectrum being one of them—there's potential that we demonstrated in this study," Longcore says. "We've proved the concept. We've shown that it can be done and that there's a benefit to it."
His work has drawn some high-profile notice. Microsoft co-founder Bill Gates, whose Bill & Melinda Gates Foundation has an interest in public health issues, tweeted a link to Longcore's findings. "Can an innovative lightbulb help fight malaria?" Gates asked.
For now, the maker of the tuned bulbs won't be producing them commercially, but Longcore has hope. "I have no doubt that these principles will eventually get applied," he says. "The roadmap is there now. Someone will pick it up and push it along."
Longcore credits UD for providing the "really great, broad liberal arts education" that helped ignite his world-changing ambitions. "My time at Delaware got me started doing research and writing research and being exposed to scholarly life and inquiry," he says. "I valued the undergraduate research experience so much. I valued the opportunity to be able to do independent, novel research with an engaged professor and see it through to publication."
As a Blue Hen, he would become the Department of Geography's first honors graduate, start UD's Geography Club and become the first and only geography major to hold a Unidel Eugene du Pont Memorial Distinguished Scholarship. Geography Prof. Brian Hanson recalls Longcore as the "winner of every department award we had available."
"Travis' founding and leadership of the undergraduate club created a high point in having undergraduates included in the social life of the department," Hanson says. "His subsequent career of being relatively entrepreneurial for an academic could certainly be seen in his personality at UD: outgoing, interested in everything, seemingly capable of anything and not afraid to try new things."
by Andrew Faught