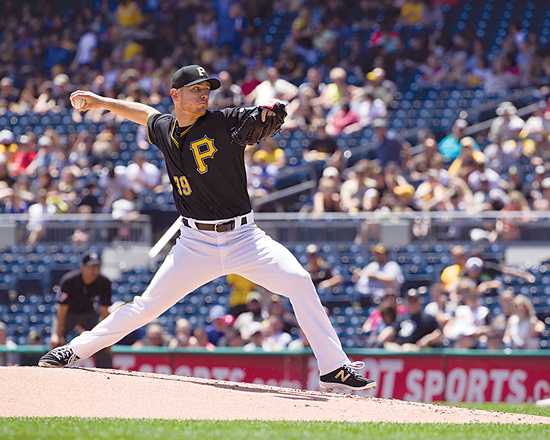 From the Blue Hens
to the majors
Former UD ace Chad Kuhl has bright future with the Pirates
ALUMNI | Chad Kuhl, AS14, was in suburban Atlanta playing minor league baseball when he was called into the crowded office of Dean Treanor, then-manager of the Triple-A Indianapolis Indians.
It was late June 2016 and Kuhl, a former standout pitcher at UD, was going through a rough stretch as a starting pitcher in the farm system affiliate of the Pittsburgh Pirates.
"I didn't know what was going on," the Delaware native recalls. "I thought I was in trouble."
Kyle Stark, an assistant general manager with the Pirates, was also in the room, but Kuhl wasn't in trouble. Instead he was being informed he was on his way to the Major Leagues, fulfilling a dream that began when he started playing T-ball around the age of 4 near his home in Bear.
Kuhl was told by Treanor and Stark that he would be the starting pitcher that Sunday night for the Pirates in Pittsburgh, on the ESPN Sunday night game of the week against the Los Angeles Dodgers.
"It all happened really fast," says Kuhl.
He waited a few hours—until his parents came home from work—to call home and give them the good news.
"My mom was in tears and freaking out. It was really cool."
That Sunday, June 26, 2016, his parents and other family and friends were all in the stands as Kuhl started against the Dodgers and got the win 4-3 over ace Clayton Kershaw.
With that, he became the first UD pitcher to start a Major League game since the late Dallas Green, who pitched for the Phillies as a rookie in 1960. Newport, Delaware, native Green was a long-time UD supporter and Kuhl garnered a Dallas Green scholarship while in Newark.
"It is weird how it all worked out," says Kuhl.
A standout at Middletown High, he graduated in 2010 and headed straight to Newark to play for the Blue Hens. After a so-so freshman season, he felt he turned the corner in an impressive start as a sophomore against George Mason University, under head coach Jim Sherman.
"I looked at the stats the other day: eight innings and one run. It was one of those games where my season turned around," Kuhl says.
That summer he continued to be followed by scouts as he played for the New Market Rebels in the Valley Baseball League of Virginia. Sherman says a key to Kuhl's success occurred right around that time, when he began to pitch inside to hitters.
"That is what kind of catapulted him into the stage he is now in his career," adds Sherman, who first saw Kuhl pitch as a high school sophomore. "He understands how important that is. He is more of a power pitcher now."
As a junior at Delaware, Kuhl was one of the best pitchers in the Colonial Athletic Association and went 10-2 with an ERA of 3.75 in 2013. That June he was drafted in the ninth round by the Pirates and quickly worked his way through the minor league system of Pittsburgh.
Then came word of his promotion to "The Show" before that unforgettable June 2016 minor league game near Atlanta.
The hard-throwing Kuhl was 5-4 with a 4.20 ERA in 14 starts for the Pirates in 2016. The following year, he made 31 starts and went 8-11 with a 4.35 ERA. After two straight losing seasons following three years in the playoffs, the Pirates hope Kuhl can help make a difference this spring.
"We think he can be a very good Major League pitcher," says Pirates general manager Neal Huntington. "We are very high on Chad."
Article by David Driver
THE CHAD KUHL FILE
Born: Sept. 10, 1992 in Bear, Delaware
Sport: Baseball
Position: starting pitcher
Team: Pittsburgh Pirates
MLB debut: June 26, 2016, in Pittsburgh
College: Delaware
High school: Middletown
UD days: won 10 games for the Blue Hens as a junior in 2013
Drafted: in the ninth round out of UD in 2013 by the Pirates
Throws: right
Height/weight: 6-3/216
Did you know?
Kuhl goes by the nickname Chet, an ode to Chet "Rocket" Steadman, the character who was played by Gary Busey in Rookie of the Year, a baseball film … Kuhl beat Cy Young winner Clayton Kershaw of the Dodgers in his first big league game … Kuhl was the first UD pitcher in more than 10 years to win 10 games in a season.