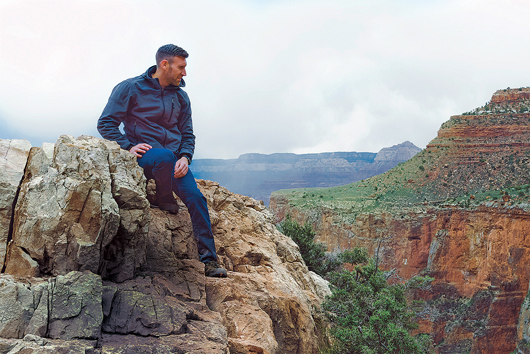 Photo courtesy of Brian Harvath
Dealing his own hand
ALUMNI | In the summer of 2011, Brian Harvath, ANR06, found himself at a crossroads. He knew his ultimate destination; he'd known it for years, from watching nature programs as a kid to filming the people and landscapes of Costa Rica on his first undergraduate study abroad.
He wanted to be a cinematographer. He always had. But now, even as he held the acceptance letter from one of the country's most competitive graduate programs in film production, he reconsidered. Maybe the $60,000 he had saved for grad school could be put to better use. Maybe he should forge his own path.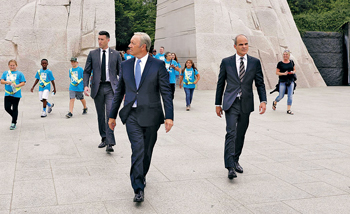 Photo by Pete Souza
"Film's not necessarily an industry where you need a degree to succeed," Harvath says. "I figured I could study and learn it on my own."
And so he did. He was already spending most weekends on independent movie sets—setting up lighting, operating the camera, doing various on-set jobs for a company run by an old friend of his—and then driving all night to make it back to his insurance gig by Monday morning. He had also launched a company of his own with another friend and fellow UD alumnus, Dan Johnson, BE08. Their venture, BAD Productions (an acronym for Brian and Dan), provided video work for nonprofits in New York City. Hungry for more, he began freelance video work and gained experience working with clients like Vince Camuto, HBO and Alicia Keys.
Then, the path toward his dream would shift once again.
In 2014, on a whim, Harvath drove from his house in Smyrna, Delaware, to Annapolis, Maryland, for an open audition for one of his favorite shows. When he landed the role as a Secret Service agent on House of Cards, he was surprised. After all, the audition had taken just minutes: "You go into a room and introduce yourself. Then they take your photo and say, 'We'll be in touch.'"
For almost four years now, Harvath has played a strong and silent Secret Service agent, a role that has afforded him unique access to top-notch cinematographic techniques. Staying on the actor's side of the camera has also given him a firsthand view of the interactions among directors, crew and actors (even if his character has yet to speak a line). And despite the show's recent notoriety, Harvath has nothing but kind words for the obvious elephant in the room. "Kevin [Spacey] was always good to me. Honestly, he's probably the most talented actor I've ever seen in person."
But while acting is an unexpected and enjoyable pursuit, film remains his true passion. When not working on the show, Harvath focuses his full attention on Big River Film Co., a Dover-based production company where he serves as producer and director of photography. Most recently, he was a stand-in for the 60th Grammy Awards, gaining direct insight into the production of live events. As he puts it, "There's always something new to learn, and I'm not going to say no to anything."