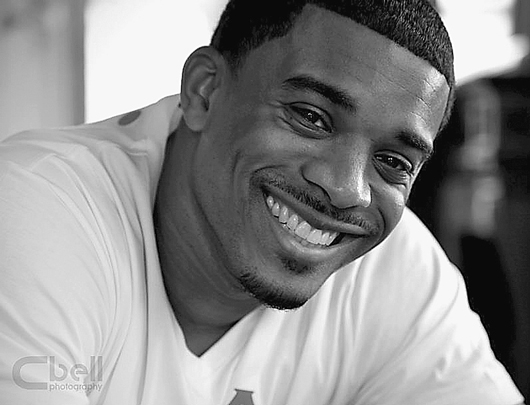 Photo courtesy of Aaron Graves
Hard-knock Hustle
ALUMNI | If you ask Aaron Graves how long it took him to hone his trademark radio DJ hustle, he'll tell you 1 minute, 47 seconds. That's how long a 13-year-old Graves lay splayed out on an operating table, declared dead.
"I saw heaven's gates, the clouds, my grandfather and my favorite uncle, all who had passed," he says. "They were becoming more vivid, and right before I got to touch them, I woke up."
After a headache so bad his vision blurred, Graves was sent to a hospital near Fort Washington, Maryland. A CT scan showed a large cancerous brain tumor, so he was airlifted to Children's National Medical Center in D.C.
There, the chief neurosurgeon told him that without surgery, he had a month to live.
"I had to learn how to walk and talk again," says Graves, BE99, who attended UD under the American Disabilities Act after experiencing a relapse his freshman year. "If you've never experienced death, you can't know what that's like, and how much it makes you want to live."
Now clear of cancer for 12 years, his victory over the disease informed his handle in the music industry: DJ Herkules, the "strongest man in radio."
On weeknights from 6 p.m. to midnight, Graves holds down Sirius XM's R&B hotbed, The Heat. In between the velvet lyrics of baby-faced crooner Khalid and rapper Cardi B's brazen, throaty word play, Graves peppers his set with his signature dose of "doing me."
That means after Birdman spits "I'm on my Disney sh*t–Goofy flow," the father of three can chat about what's going down on Mickey Mouse Clubhouse as easily as he can discuss the state of the rap game and the morning's White House briefing. Don't be surprised if you catch a UD shout-out, too.
"I was telling my listeners about checkin' in at UD for homecoming this year," he says. "I'll tell you, it was a different kind of vibe. I loved what I saw in terms of campus improvement. It was incredible."
Graves recalls when he couldn't walk through campus without being recognized as one of the few students of color—and a time when awful racial epithets were hurled his way. It was an experience that makes him especially attuned to recent shifts in campus vibes.
"I thought about going to an HBCU [Historically Black College or University]," Graves says of his decision to attend UD. "But I didn't want to because of what I saw growing up. I come from a predominantly black area. Being at UD helped me not only further understand how folks perceive me, but also how to fight the concept."
The Christiana Towers, he says, were "like the microcosm of the world: blacks, whites, student-athletes, upperclassmen. Everybody. That really helped."
Graves also found vibrant pockets of black campus life and thrived. "If it wasn't for the Center for Black Culture and Each One Reach One, I probably would have lost my mind," he says. "As a black man, the real world gives you so much pressure. And if you don't have a support system around you, you get angry. And you pass those things on."
While helming one of the country's hottest hip-hop stations might seem like a stretch from his business, finance and marketing classes, Graves makes the connection. "My UD marketing classes I'm going to put on a pedestal," he says. "I have to deal with consumer behavior, marketing strategies, business law, getting into the consumer psyche … those have a lasting influence on me."
And while that 1 minute, 47 seconds on the operating table was life-affirming for Graves, he also gives props to his father for passing on his deep love of music.
"Man, I remember his clothing hampers full of vinyl records," he says. "We used to sit in the car in the driveway and sing The Commodores, Al Green, Four Tops. I knew I wanted to be in the radio and TV industry. And I wanted to do me. This is the dream."
But you don't conquer death to simply be content. You grind. So, in 2010, Graves decided to follow his other dream: owning an after-market car customization boutique.
"DMV Motoring started in my garage; within two years, we were in a 1,200-square-foot space, and we've double-expanded since then," he says. His roster of clients looking for a ride remix includes several NFL players, and he's been approached about opening up a shop in Jamaica.
"I'm out here. I'm hustling," he says. "If losing my life couldn't stop me, I can't think of much that will."
by Amy White, AS05