From our Alumni Association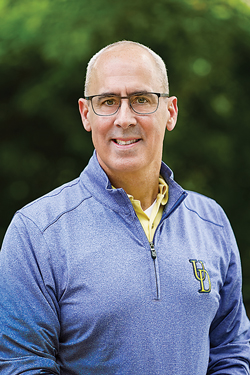 One of my most meaningful experiences as UDAA president has been watching the extraordinary ways in which alumni share their insights and expertise with the next generation of Blue Hens. For some, this has meant serving as a hands-on mentor for students interested in similar careers. For others, it's been supporting programs like the "Life After UD" series, where more practical advice is shared—from managing taxes to enrolling in insurance. And for many others, giving back has meant more direct, immediate student support, such as proofreading resumes and cover letters, offering interview tips and helping students and young alumni prepare for a successful job interview. These are all rewarding and impactful opportunities, and just another way of saying "thanks" for the help that you may have once received yourself.
It's in that spirit of paying it forward that UDAA now sponsors the UD Career Advising Network, an innovative means for all alumni to connect with students and share in the experience of coaching, critiquing and providing networking opportunities. UD CAN is an online tool that provides an easy way to broker introductions between alumni and students based upon common interest, experience and the desire to make a difference. In just a few minutes, you can update your profile and offer any amount of time or number of conversations based upon your personal needs and commitments. Through this facilitated online "introduction," you can also share your own lessons learned.
Your perspectives are diverse, valuable and uniquely your own. They are also critical to our efforts to launch the next successful class of alumni, a cohort of Blue Hens who will continue the UD tradition of excellence that you have helped develop. I hope you'll take the time to get involved and make a connection. I know you won't regret it.
—Steve Beattie, BE87