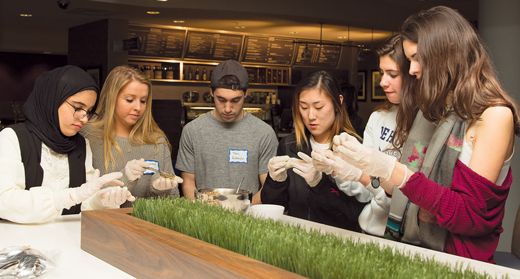 Photo by Ashley Barnas
Making friends, one bite at a time
STUDENTS | Of all the joys that humans share, eating food and enjoying music are surely two of the most beloved. And of all the uncomfortable moments life brings, being alone in a strange place may be among the most dreaded.
By combining the communal pleasures of dining and song, UD is helping to soothe those far-from-home feelings for hundreds of international students on campus.
At the World Kitchen Series events, the tastes and sounds of other countries became pathways toward friendship between UD's international students and their American counterparts. On one evening, the familiar tastes of Turkish moussaka and the sensual rhythms of Middle Eastern drumming fostered easy interaction among students. On another, Chinese dumpling-making lessons served to encourage meeting and mingling.
Each year, UD hosts more than 5,000 international students, scholars and their families, who came to Newark from 96 countries from this year. (The number of Chinese students alone rose 150 percent from 2009-2015.) UD is working constantly to ease the transition for these students—through the English Language Institute and at the Office for International Students and Scholars, which each offers a variety of orientation, assistance and hosting programs.
During the World Kitchen Series dinners, students are strategically seated so that cross-cultural conversations can arise. Between bites and songs, students are encouraged to speak about themselves before the crowd, offering a warm glimpse of their lives and personalities.
"Instead of just shoving students in a room, we get them to interact in an intentional way. We challenge them to go out beyond their comfort zone and reach someone," says Tim Kim, an orientation coordinator at UD's English Language Institute.
As a part of UD's Art Bridging Cultures program—which aims to promote cross-cultural interaction and exploration of diversity—the World Kitchen Series continued its march across the globe through events that highlighted the cultures and cuisines of Germany, South Africa, Japan, Saudi Arabia, India and Scotland.
"When you study far from your culture, far from your friends, you're incredibly lonely," says Xiang Gao, a distinguished professor of music and a key organizer of the World Kitchen Series. That means a helping hand is just what's needed to make international students feel at home, especially when home is a world away.
"In the beginning, it was a culture shock," says Kadir Ozden, EG10M, 18PhD, a civil engineering Ph.D. candidate from Turkey who enjoys the World Kitchen Series events. "It was hard to express ourselves, hard to make new friends. But with time, that changed. Newark and the people at UD have been good to us."