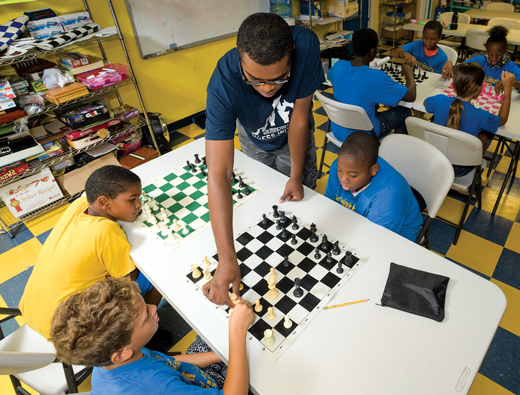 A game of choices
STUDENTS | "Chess, like life, is a game of choices," says Johnny Means, BE21. "Every choice, starting from the beginning, affects every outcome, situation and choice thereafter."
A first-year student from Wilmington's Southbridge neighborhood, Means chose to start his academic career at UD this fall, aided by a $10,000 Live Más scholarship, which the Taco Bell Foundation awards not for test scores or essays, but for passion.
Means' passion is chess, and more specifically, cultivating a love of the ancient military game in the youngest members of his community. In 2014, he helped launch the Wilmington Urban Chess Initiative, which brings chess into after-school programs, and he has tutored nearly 60 kids to date.
"I believe teaching young people how the moves they make early on will dictate success or failure is a very crucial lesson," he says as he knocks down the pieces of a chessboard incorrectly set up by one of his students.
"He's tough," says Jalyle, a sixth grader he teaches at Bernice's Educational School Age Center in Wilmington. "But he's really nice, too. He just gives us tough love."
Means thinks of it as the foundations, the building blocks. "Be patient, be tactical, have a plan," he tells his students. It's the same advice he gives himself. "Good grades, good education, good role models, good values," he says. Those have been the building blocks that have brought him to where he is today: a management and information systems major with an interest in logic, data—and politics. He dreams of being Delaware's governor someday and looks forward to visiting both the College Republicans and Democrats to "see which sparks my interest."
Also on his to-do list: joining UD's Chess Club.
"It's a really fair game. There's no imbalance at the outset," he says. "It's about playing your best, playing your hardest and outsmarting the other person."