First-year common reader aims to spark wider conversation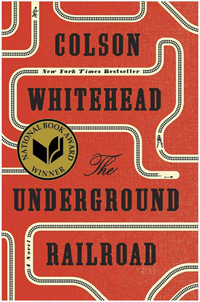 STUDENTS | Novelist Colson Whitehead spent an afternoon this fall speaking to a packed Mitchell Hall auditorium about his life, his writing process and his Pulitzer Prize-winning bestseller, The Underground Railroad.
The book was selected as this year's first-year reader for incoming freshmen and came at a particularly tense time in national history. The racial marches in Charlottesville just days before the semester began served as an almost modern-day backdrop for the story about two slaves escaping their Georgia plantation through a literal railroad underground.
"This story, at this particular time, spoke to the spirit of humankind in a way that compels us to understand our origin," says Vice Provost for Diversity Carol Henderson, adding, "the campus is ready for complex discussions around heavy topics."
Whitehead would agree.
"High school students often want to know: What does the book mean? College students want to know: Is their interpretation right? The book is yours to think about," he told the mostly student audience. "Trust your interpretation. That's part of why you guys are here."
Take the Messenger reader survey for a chance to win a signed copy of The Underground Railroad.