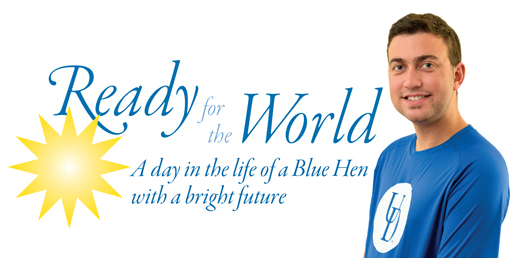 STUDENTS | In 2015, Nick Godwin came to UD and found a life he'd never known, and a future he'd never imagined for himself.
He found it on the shady paths of campus where he could sit and chat with other college students, and in the one-on-one sessions where he would work hard to master the mundane obligations of everyday life: lugging laundry, answering emails, remembering assignments.
He found it in the words of the people who told him he should dream as big as others dream. He learned that the label officially applied to him and others—"intellectual disability"—was not necessarily a definition of all he was, or what he could become.
He was now a college student—just as full of promise and doubts, just as scared and excited, as any other.
Each year, such opportunities occur for a select group of about a dozen young people accepted into UD's Career and Life Studies Certificate program, a two-year experience that aims to give high school graduates with intellectual disabilities a college experience—one filled with undergraduate-level classes, a personalized support network including academic coaches and student mentors, and a constant call for them to engage, adapt, prevail.
Similar programs are growing nationwide, but UD has been at the forefront of such efforts since their inception in 2010, and remains a national leader recognized for its innovations in mentoring efforts, family support and inclusive residential models.
Today, Nick can dream big enough to envision a career in the sports industry—whether that be in sports broadcasting or even working in a sporting goods store. His mother, Trisha Brobst, now sees a son full of confidence, spunk. And UD gains another eager, proud, accomplished Blue Hen—no less so than any other.
Earlier this fall, we followed Nick on his daily routine, from dorm to class to work. Join us as he journeys into his future.
MOVING IN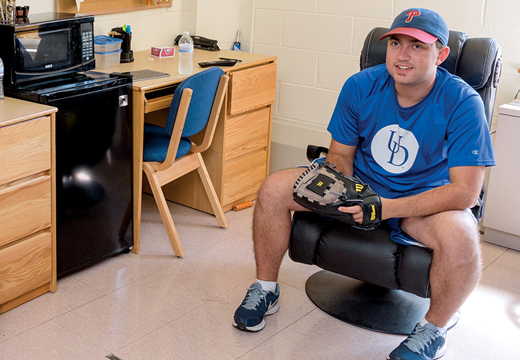 "Living on his own." Those words were enough to send a ripple of fear—and cautious excitement—through his mom's thoughts as she helped lug the youthful ephemera of residence hall living into Nick's new room, where he would finish his second year of the CLSC program as an on-campus student.
"As a mom, I'm a little fearful," says Brobst. Since he was small, Nick has experienced seizures that would contribute to his intellectual disability. With the seizures now under control, it's time to move ahead, she knows. "This is his first time on his own. When we're together, I tend to do things for him, so this will be good for both of us."
Nick also seems nervously elated as he proudly pins Phillies memorabilia to his bulletin board before unpacking his treasured glove and ball. Program manager Debbie Bain had warned them: "Life is full of challenges and you may find yourself in a panic zone. Don't let it overwhelm you—reach out to your support network and use that challenge as a learning opportunity!"
ONE-ON-ONE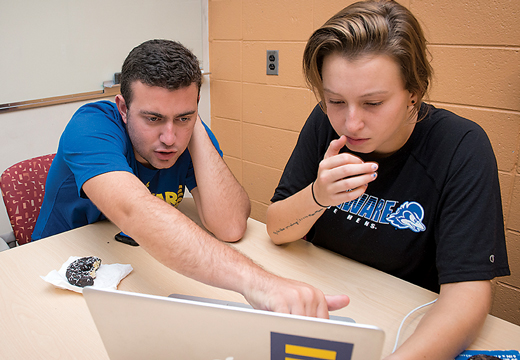 Patiently, "point coach" Kiera Schaindlin, EHD18, leads Nick through the spreadsheet that has come to represent—and make manageable—his potentially chaotic schedule of class, work and social life. He's juggling two jobs now—a paid position in Pencader Dining Hall and an internship at the Newark Senior Center—along with his classes.
"Did you ever answer Roger?" Kiera asks, scanning his email inbox as they huddle together in a library cubby.
"Hmmm," he answers after a pause. He hasn't answered Roger. "What do you think I should say?"
"Well, first, it's a good idea to say, 'Hi, Roger,'" Kiera says. "Then, ask 'Where would you want us to meet?'"
At times, those countless mundane demands of an orderly life seem to only overwhelm Nick; at other times, he bravely copes and conquers. It's a typical—and necessary—trial-by fire. "This is really their first solo flight," Bain says of those selecting to live in the residence halls. "I think they begin to value themselves and realize if they want to have choices, they have to take responsibility for that."
FRISBEE CLASS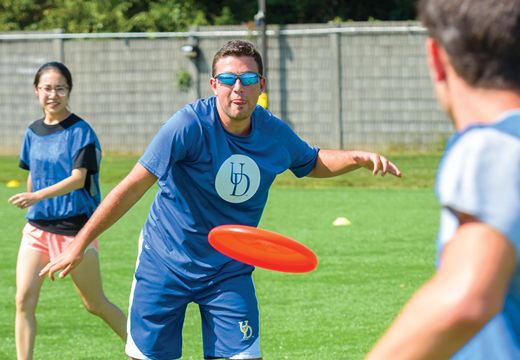 Amid the exuberance of the everyday undergrads in his Ultimate Frisbee class, Nick is clearly in his element, running just as fast, yelling just as loud, sweating just as hard.
"We work to make this an experience that stresses socialization and inclusion," Rebecca Jewell, CLSC staffer, says of the program's emphasis on having the students be together with, rather than separate from, their undergraduate peers.
"That's because of UD's dedication to the idea of creating a more inclusive environment," says Brian Freedman, associate director of UD's Center for Disabilities Studies, which oversees CLSC.
Students in CLSC typically have significant limitations in both intellectual functioning (such as learning, reasoning and problem solving) and in adaptive behavior (which covers many everyday social and practical skills). Their learning difficulties are sometimes impacted by other disabilities, such as autism spectrum disorder, Down syndrome and cerebral palsy.
"It's not so much what makes them different," Bain stresses, "but what makes them the same as all other students on this campus."
LAUNDRY TIME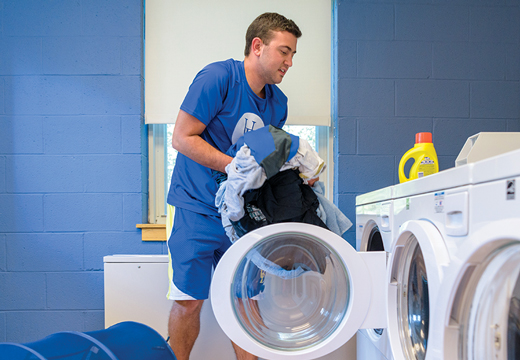 If it's possible for any college student to be proud of a basket of laundry, Nick Godwin is that student. He happily shows visitors his new prowess in such chores, and eagerly tackles similar new challenges from his strategic plan: "Join clubs," one line reads. "Pursue fitness." "Plan a social event."
Just moving into the residence hall—he discovers with some righteous pride—was a big step toward one of those goals, and it's a huge one: His independence.
"From last year, you've turned a goal into a step forward," Kiera tells him. "You should be proud of yourself."
Nick blushes, and smiles. He does that a lot these days.
IN THE DINING HALL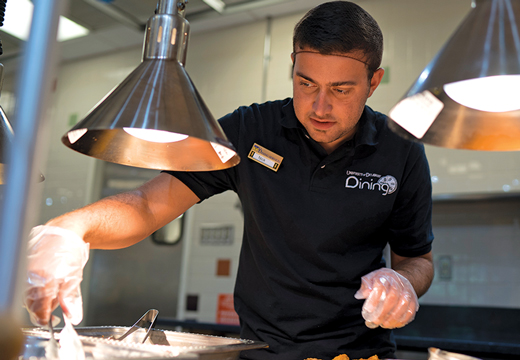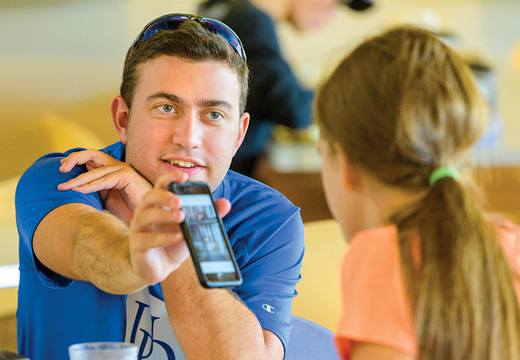 The lunch rush is beginning to hit at Pencader Dining Hall, yet Nick seems as chill as a UDairy cone. Hungry students line up as he scoops some bacon onto a diner's plate. Later this week he will head for his internship at a local senior center.
"Now that I have my internship, I have to find a way to get my other work done," he muses later in his session with Kiera.
She pushes him gently. "We can make that a goal, to figure out how to balance this," she says.
Back at the dining hall, he enjoys a leisurely lunch with a fellow CLSC student, knowing he will return on Saturday to face a conveyor belt of dirty dishes. But he seems ready for the challenge.
"If you've got a bunch of things coming at you, you've gotta move quick, you've gotta keep up."