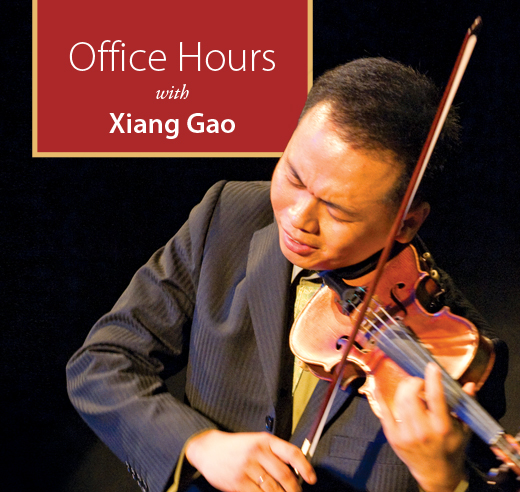 Photo by Evan Krape
FACULTY | He taught his first class at UD the morning of Sept. 11, 2001, a 9 a.m. music course that played on as the world was being forever changed.
Xiang Gao thinks of that moment now, 16 years later, as he speaks not of tragedy, but of the transcendent power of music, the universal language, the harmonious bridge between culture and people and space and time.
"We fear the stranger as 'the other,' but when music starts, there is no other," says Gao, the Trustees Distinguished Professor of Music at UD and the ZiJiang Professor of Music at the East China Normal University in Shanghai. "My mission in music is to connect every country in the world looking for peace and prosperity."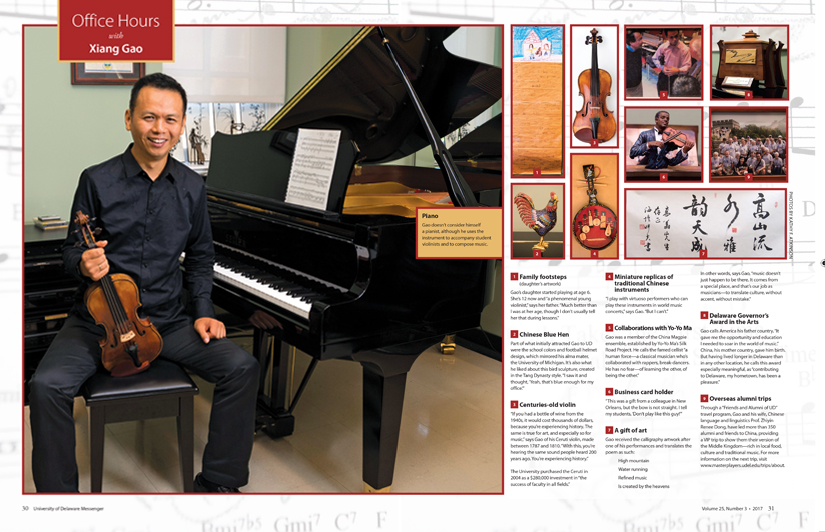 To that end, he established UD's ensemble-in-residence program, 6ixwire, which has featured musicians from Iran, Afghanistan, India, Japan, China, Israel, Pakistan and other countries, who perform multiple international concerts a year. In 2004, Gao created the University's Master Players Concert Series, which brings some of the best soloists and ensembles in the world to Newark, Delaware, and three years ago, he helped launch the Master Players Festival and School, a two-week summer program for international students 14 and older. With classes taught in both English and Mandarin, the festival is regarded as one of the largest bilingual music education programs in the U.S. Most recently, he began a program called the Little Masters Project to offer free instruments and lessons to underserved children in Wilmington.
The son of professional violinists, Gao learned to play the piano at 6 and the violin at 9. He would find comfort in the voice of his instruments, first as a player, and later, on stage. Hailed by The New York Times as "a rare and soulful virtuoso," Gao has performed for scores of dignitaries and heads of state, including former Presidents George H.W. Bush and Gerald Ford, Chinese President Hu Jintao, and King Carlos I of Spain.
But those are not the highlights of his career. "Playing for close friends in times of severe illness. Producing and creating special productions and entire concert series promoting diversity and inclusion. Bringing the world of performing art to Delaware." Those are the real markers of his legacy.