Photo by Kathy F. Atkinson
A Shared Vision
Building a more interconnected future for UD
As the University embarks upon the most ambitious fundraising campaign in its history, President Dennis Assanis answers the big questions: Where are we going, how will we get there, and what does it mean to you?
Let's start with some reflections on your first year at UD.
Well, it's really been about two years because I've been "thinking UD" since the trustees elected me president [in November 2015]. I spent a lot of time working to understand the DNA of the institution. You've got to appreciate the place, the aspirations of the people, the history, the character, the strengths—everything. It very quickly felt like a close family culture, which is important to me. Everyone has made Eleni and me, as well as our sons Nicholas and Dimitris, feel welcome here.
What has surprised you the most?
Before I came here, of course I knew about UD's strengths in engineering, but then I learned about all these other excellent programs—art conservation and the partnership with Winterthur, public policy programs, criminal justice, hospitality management, physical therapy. Our PT program is the best in the country. I learned about that early through personal experience when I tore my meniscus and they got me back on my feet. It's truly unbelievable that a university without a medical school has such a strong health science program.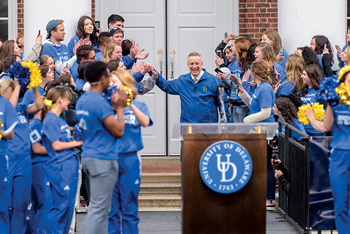 Photo by Evan Krape
I was also amazed to learn about "the Delaware Way." It's a straightforward thing here to get everyone around a table quickly—the governor, legislators, community leaders—and go from vision to reality in a short amount of time. And they all understand that UD really is the beating heart of the state when it comes to the new economy, new jobs, the transformation we want to see.
Is that how some of these big projects have happened in the past year?
Yes. The Delaware Innovation Space Inc. is a good example. It's a partnership between UD, the state and DuPont that created a research incubator at DuPont's Experimental Station. Everyone recognized the value of it right away, so it came together in a few months; somewhere else it might have taken a year or more. It opened in April, and there are already six businesses there, with several more looking to get in.
You've laid out some pretty ambitious priorities. How are people reacting to that?
UD has all of these amazing building blocks—ambitious students, great faculty and staff, supportive trustees, lots of great alumni around the world, real enthusiasm in the community. My priorities are all about assembling those pieces to build something wonderful together. Of course, it's one thing to have a vision, but nothing happens unless it's a shared vision, so I've spent a lot of time talking to people, getting us all on the same track and building a great team.
Student success is your top priority. Why?
It's everything. Our most important job is preparing students to succeed in the 21st century, so we constantly have to think about great classrooms and labs and high-impact experiences like internships, study-abroad and research opportunities. Whenever I talk to students, I ask them what they're studying, and they say, "Well, I started in biology but then got interested in public policy and now I'm back in biology, so maybe I'll double-major." They love working across disciplines. It's a great way for them to pick the right combination of skills—technical, communication, creativity, negotiation—so they can be successful in the world.
Student success is what drives the other priorities: building an environment of inclusive excellence, strengthening interdisciplinary and global programs, fostering a spirit of innovation and entrepreneurship, and investing in our intellectual and physical capital.
Could you describe what you mean by "inclusive excellence"?
Our student population is becoming more diverse every year—more racial and ethnic minorities, more first-generation students, more students from low-income families, more international students. Every one of our students helps make this a vibrant and exciting community. So our opportunity is not to lift just one kind of student to excellence, but to lift all of them. We want every student to feel at home here and to succeed here. We're making progress, and we can always do better.
Is innovation and entrepreneurship all about new technology and new businesses?
Some of that, certainly. But it's so much more. Every student and every faculty member—in every field—can be an innovator and an entrepreneur. Some have started businesses; others created nonprofits to address a social challenge, or they figured out a new way to solve an old problem. Employers tell us all the time that they want people who can solve problems. That's innovation and entrepreneurship.
What are the opportunities to grow and strengthen the faculty?
Great faculty draw great students, so we need to invest in that intellectual capital. We have about 1,200 faculty, and I want to add about 250 more over the next five to 10 years. We also anticipate replacing about 300 positions due to retirements and attrition during that time, so one-third of our faculty will be new by 2022. That's going to create a really rich melting pot of perspectives and ideas here, and we want to make sure all our faculty have the tools they need to do their best work.
How are you planning to grow graduate and professional programs?
We want to create a graduate college to increase their impact and visibility of our programs and attract more research funding so we can make an even greater impact on the world. We anticipate a doubling of our enrollment of graduate students over the next decade. A lot of students want and need advanced degrees and certifications, especially as they progress in their careers. Having more master's and doctoral students also means we can attract more research funding and engage in discovery and innovation across more fields. Graduate students are essential in connecting undergraduates to research projects and the other high-impact experiences. It's a whole ecosystem we're trying to build.
What is the Biden Institute adding to UD?
This is an incredible partnership for our students and our faculty. Think of all the ways we're trying to make an impact on the world: protecting the environment, creating safer communities, making people healthier, ensuring civil rights for everyone. The common challenge for all of them is how to make our solutions work in the real world. That's where public policy comes in, and that's what Joe Biden and our faculty know better than anyone.
You're a big supporter of the arts.
Absolutely. Eleni and I love all the visual and performing art programs, especially those involving students. We got to see our amazing UD Chorale perform in France last summer. The arts and the humanities are essential to a UD education because students learn to be creative and imaginative, and they learn to see the world through another person's eyes. Every single student needs those skills. And they're critical for a healthy, growing, prosperous, civil society. We can address so many big challenges in American society and internationally when we understand our history, our cultures and our common humanity. UD has world-class faculty and students in art conservation, Black American studies and so many more disciplines.
Not to mention the natural and social sciences, engineering, agriculture, health science, business, education and human development …
Exactly. We're a top-tier research university, so we explore the full breadth of human knowledge and experience. That's why we're committed to working across disciplines. We're inventing new technology and answering questions about its cultural implications. We're developing new methods of teaching children, growing food, treating disease, conducting business and creating the tools and public policies to put those methods to work in the real world. Every discipline is important.
One of the new big initiatives is the Biopharmaceutical Innovation building on the STAR Campus. What's happening there?
Biopharmaceuticals are still relatively new, but they have the potential to cure the most vexing diseases, including cancer, diabetes, autoimmune diseases, Alzheimer's and Parkinson's. They're based on biology, not chemistry, which makes them a lot more complex to create and produce. The industry is rapidly advancing, and UD has a lot of expertise—in health science, engineering and other fields—to be a leader in this field. In October, we broke ground on a six-story, 200,000-square-foot building to bring all of those resources together. The day we open that building—probably in early 2020—we'll have one of the best biopharmaceutical institutes in the entire country.
And part of that is NIIMBL, the National Institute for Innovation in Manufacturing Biopharmaceuticals, right?
Yes, NIIMBL will occupy about a quarter of the building. NIIMBL is a nationwide partnership—led by UD and largely funded by the U.S. Department of Commerce—with 150 other universities, companies, federal agencies and other groups. The goal of NIIMBL is to develop better, more agile and efficient ways of manufacturing these medicines. Leading this initiative means UD is becoming the epicenter of this exciting new industry.
What else is happening at the STAR Campus?
The 10-story STAR Tower is going up quickly. UD's College of Health Sciences will occupy a lot of the building, and many private companies are looking to do research and development. That's the model for the whole STAR Campus: connecting UD education and research with corporate partners and bringing in the community to both benefit from and inform our research. Also, the state began construction over the summer on a new train station to improve connections with the whole region. So just a few years from now, there will be a lot of new research and collaboration space on the STAR Campus, plus the train station. It's very exciting.
So across South College Avenue is the athletics complex. A lot of people—especially students and alumni—have long said we need better athletics facilities. What are the plans there?
We envision a state-of-the-art performance center for student-athletes—a facility for training, conditioning, sports medicine, nutrition and sports psychology, plus academic support, leadership development, career prep—everything they need to succeed on and off the field. Also, Delaware Stadium is long overdue for a renovation, so we're going to give it a big makeover.
Does UD really need all of these new initiatives? Isn't UD good enough now?
UD is much more than "good enough." It's a great university—one of the best. But the world around us is changing so much and so quickly—we all feel it—so if we just keep doing the same things, we're actually falling behind. We can't let that happen. It's not fair to the students who need a UD education. It's not fair to the society that needs our discoveries and our innovations. And it's not fair to all the people who've made this a great institution over the past 275 years.
So that's what this fundraising campaign—Delaware First—is about?
Philantropy helps drive excellence. We need resources to build and grow and do all the things that our students—today and tomorrow—need us to do. The campaign has two top priorities: creating an extraordinary student experience, and extending our impact on the region and the world.
Why not spend from UD's endowment?
UD is fortunate to have an endowment, but it's not a savings account. It's an investment that was made by past generations. We only use the endowment in ways that can continue benefiting the University. Part of the campaign goal is to increase the endowment, so everyone who gives now is really investing in the future.
What's the role of our 175,000 alumni around the world?
Alumni are essential to our success, not only through their generous gifts but also through professional mentoring and career networking. Our students need their expertise and guidance. Alumni benefit, too. They can tap the same professional network to advance their own careers, they can return for graduate or professional education, and as UD becomes stronger, the value of their degree increases.
Where do you see the University in 25 years, in 2043, when we celebrate our 300th anniversary?
UD will continue doing what it has always done: providing students with a world-class education that prepares them for a lifetime of success, making discoveries that shape the future and engaging with people to make their lives better. But I also see an even more interconnected university, one that's a driving force for innovation and progress far beyond our campus. Now it's up to all of us to make that happen.