Coming together for the common good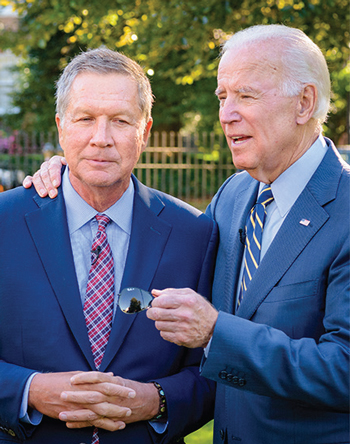 Photo by Evan Krape
CAMPUS | In many ways, politicians Joe Biden and John Kasich aren't all that different. One's a Democrat, the other's a Republican, but both men see common ground as they watch the nation veer deeper into divisiveness.
"We're so much focused on our differences that we forget our common goals," Kasich, governor of Ohio, said as he joined the former vice president in a special edition of UD's National Agenda speaker series this fall.
More than 600 people jammed Mitchell Hall to hear Biden, AS65, and Kasich in UD's "Bridging the Divides" event, presented in partnership by the Center for Political Communication and the Biden Institute. This year's theme explores religious, political, cultural and other national divides.
To Biden, he and Kasich are examples of how even opposing parties should still be capable of recognizing common goals. "It's not that hard for John and me to get along," Biden said. "We both believe strongly in the capacity of the American people [and that] personal relationships matter."
Shaken out of complacency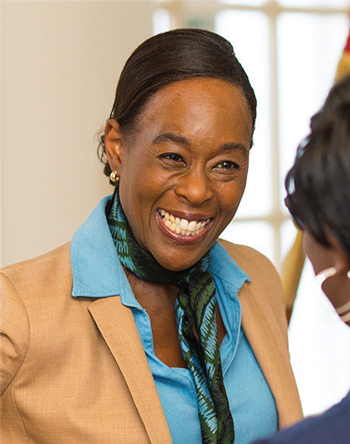 Photo by Kevin Quinlan
CAMPUS | Stories like Hidden Figures only come to light when we look for stories like Hidden Figures, said author Margot Lee Shetterly, speaking to a packed Mitchell Hall crowd this fall.
As the speaker for this year's Louis L. Redding Lecture, which honors the prominent Wilmington lawyer and civil rights pioneer, Shetterly said the idea for the book, subtitled, The American Dream and the Untold Story of the Black Women Mathematicians Who Helped Win the Space Race, came to her seven years ago, when her father mentioned the women he worked with at NASA and their unrecognized work.
The writer realized then that she knew their story but not their full history. I was "shaken out of complaceny," she said, encouraging the audience to don their own "hidden figures" glasses and find the untold tales that exist among friends and family.
The mathematicians' story was "hidden," Shetterly added, because our histories are generally missing stories of black protagonists—the everyday, American stories of the scientists, professors, cleaners and so many others of previous generations.
"Humans are a storytelling species," she said. "And stories matter."
Masters of disasters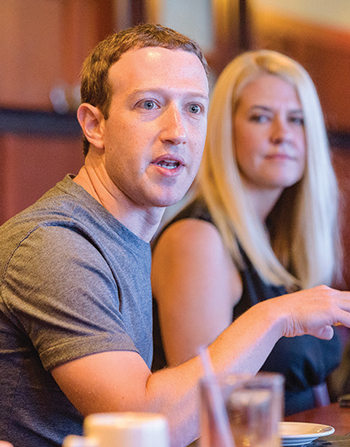 Photo by Evan Krape
CAMPUS | When major hurricanes triple-punched the U.S. in swift succession this year, UD was there to lend a hand—before, during and after.
As the oldest research center in the world devoted to the social science and management aspects of disasters, the leaders and students of UD's Disaster Research Center were on the ground, visiting shelters, evaluating needs, and helping the media (and nation) understand the issues at stake following Hurricanes Harvey, Irma and Maria.
"We do a lot of how and why—how was that decision made, and why?" says Tricia Wachtendorf, who directs the center along with James Kendra. "That has implications for how other cities could/should be thinking of responding in the future."
Such UD expertise made its way to Facebook CEO Mark Zuckerberg, who visited Delaware in the wake of the storms to discuss how communities can better respond to—and endure—such events. Zuckerberg asked the DRC to consider the groundswell in support from the community that typically follows disasters, and challenged them to think of ways the nation could better capitalize on that energy.