Supporting our students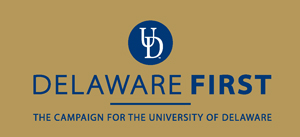 CAMPUS | The University of Delaware has always been a place with high aspirations and warm support from alumni and friends. Those two attributes are the forces driving UD's most ambitious fundraising campaign in its history, an effort that aims to raise $750 million to enhance an extraordinary student experience and extend its impact on the world.
Delaware First: The Campaign for the University of Delaware seeks to remind constituents of UD's leading role in opening minds, inspiring purpose and building a new tomorrow. In 2005, UD's first comprehensive fund-raising effort—called The Campaign for Delaware—raised more than $431 million in donations, more than $206 million above the initial goal.
Four core priorities lie at the heart of the Delaware First campaign which publicly launched in November and runs through June 2020:
THE BIDEN INSTITUTE, a new effort to pair the former vice president's work in domestic policy issues with the University's strengths in public policy education and research;
THE GRADUATE COLLEGE, which will enhance UD's reputation and mission as a top research university;
INNOVATION AND ENTREPRENEURSHIP PROGRAMS, which are preparing students for the needs of tomorrow's world; and
A "BUILDING OUR HOME" ATHLETICS INITIATIVE, which will support a Student-Athlete Performance Center and renovations to Delaware Stadium on South Campus, serving all University student-athletes, both academically and athletically.
UD alumni and friends can support the Delaware First campaign in many ways, from making a gift of any size, to engaging with students and volunteering to better the campus community. For more information, visit udel.edu/delawarefirst.