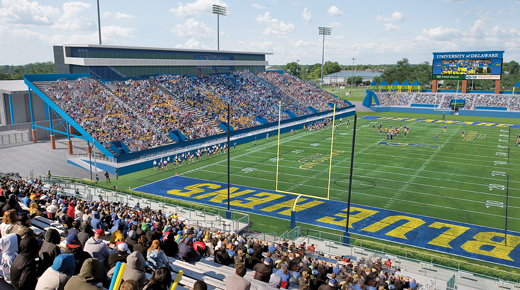 A new home for
students and fans
CAMPUS | Since its opening in 1952, Delaware Stadium has been home to thrilling action for football players and fans, men's and women's lacrosse contests, as well as the site of Commencement for thousands of graduates and their families. Over the years, it has undergone minor upgrades, but the last major change to its physical infrastructure took place in 1993. That's soon to change.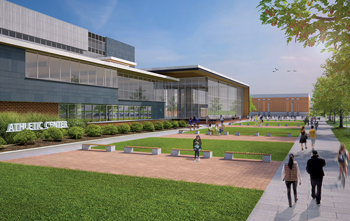 This November, UD unveiled plans to renovate the stadium and add an Athletic Center for student-athletes.
The renovated stadium will include chairback seating in the middle sections, an upgraded press box, new restrooms and concessions, club seating and special hospitality suites.
The Athletic Center, designed to enhance student-athlete success both in the classroom and on the field, will include a 10,000-square-foot weight room, an advanced athletic training center (with hydrotherapy tubs, a nutrition zone and other state-of-the-art features) and academic spaces for student support, career services and leadership development.
Although similar initiatives have been discussed in recent years, the new plans have been bolstered by the institution's $25 million commitment to the project, along with a renewed push for donor support, with $10 million in private funds raised as of October 2017. The entire project will cost $60 million and construction will begin once the total amount is raised through commitments.