UD connections help
author thrive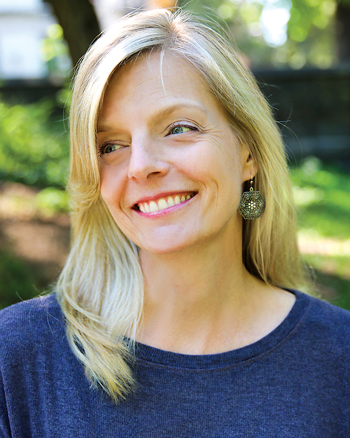 Photo courtesy of Sharon Roat
ALUMNI | When Sharon Huss Roat, AS87, decided to try her hand at writing novels, she chased her aspirations with a methodical zeal, sensing that if she studied the publishing business from the inside out, she could make her own luck happen.
She never suspected that despite her diligence, and after already finding some success in this uncertain field, sheer fate was determined to shape one of her biggest moments.
It happened after the U.S. rights to her just-released "young adult" novel, How to Disappear, were sold to HarperCollins. She discovered that her editor, Karen (Capria) Chaplin, was a fellow Blue Hen, Class of 1996.
This happy Blue Hen happenstance capped an eight-year journey for Roat, a mother of two who made the leap from public relations work to would-be novelist in one existentially chilling moment. "After years of wanting to write a book, I decided to try it, but I did a very ill-advised thing—I quit my day job first."
Picking a genre was fairly easy, on the other hand. Others had advised her to "write what you read," and she loved to read "young adult" fiction. She would learn later that the market for YA fiction was booming—nearly 50 percent of readers are not-so-young adults. Plus, in just a few years her two youngsters would have grown into her own in-house teen critics.
Did you know?
Successful "young adult" novelist Maureen Johnson, who has published 10 books (including the Shades of London series and the Suite Scarlett series) is also a Blue Hen.
She expected (and endured) the prerequisite pitfalls of writing. "It's full of rejection at many levels. It's not for the faint of heart." Her first book—Between the Notes—came out in 2015. The new one is doing well overseas, with translation rights sold to publishers in six different countries.
Roat credits Chaplin's editing skills for helping her grow and improve as a writer. "She pushes me to do better, to go deeper into my characters, to make stronger connections between them," says Roat. "She sees things I can't see because I'm too close to it. She points to problems of plot and pacing."
The latest novel, a tale of a 16-year-old whose social anxiety leads her to create a virtual life online, seems well-suited to the experience of today's teens, though Roat says she has little difficulty empathizing with readers 35 years her junior.
"I channel my inner teen pretty easily," says Roat, a Double Del whose husband Rich, AS87, is co-founder of the well-regarded graphic design firm House Industries. "I'm just pretending to be an adult now."