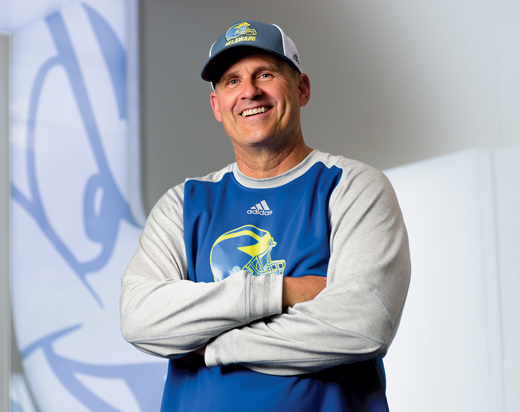 Rocco's Revival
OUR UD | The football helmets lining the shelf above his desk tell a lot about Danny Rocco.
Each one is from a different team, a different time, and each signifies another step in the varied career of the Fightin' Blue Hens' new football coach. These helmets hold tales of victories and defeats, pride and spirit—all the memories and moments of the 12 pro and college teams he has been part of in 38 years.
But those helmets also tell a thing or two about what Blue Hen fans might expect from their new coach, and why he is so eager to lead this proud-but-sputtering team.
That red-and-white helmet of Liberty University, it symbolizes both the 1-10 team that Rocco took over and the four conference championships it won soon after his reign began. And that white helmet with the black spider on the sides? As University of Richmond's coach, Rocco led a team that had finished 0-8 in the conference. Within a year, the Spiders were 8-3, and shared the conference championship.
Turning around teams that seem to have lost their bearings gives this chiseled, no-nonsense leader a special gratification, one that he very definitely wants to feel again at UD, which has gone 4-7 in the last two seasons (the first back-to-back losing seasons since 1939).
"I have a lot of passion for identifying and solving problems," says Rocco, whose teams are 90-42 in 11 seasons as a college head coach. "The exciting thing at UD is we have a model that works. We have a model that's proven. There's a lot of substance at Delaware, and an incredible fan base."
While there's no formula from his past successes, no one-size-fits-all template he can apply to the Blue Hens, Rocco does know that some things are constant: Recruit achievement-oriented people. Focus on character building. Stress accountability and selflessness—on and off the field.
"Our students are responding very favorably to this model," he says. "You can't jam it in, but those core values have to be there."
At the same time, he knows he must push not just his players, but the entire Blue Hen football program ahead—keeping up with a challenging new rule allowing bigger rosters, and striving to compete with the aggressive facilities-improvement and recruiting programs of his rivals. It's also a tight, closely matched conference, demanding a team that can recognize key moments in a game and seize them.
"I want a team that's tough, smart and focused," Rocco says. He urges them to stay flexible, to think on their feet and work to solve the problems. Ultimately, he wants to give them confidence—to believe, in their hearts, "We will win."
"We have a lot of components in place, but the ability to put it all together is what separates you from the rest," he says. "These kids have a desire, a hunger to rise above and be successful."
View the full UD football schedule at www.bluehens.com