New coach for men's lacrosse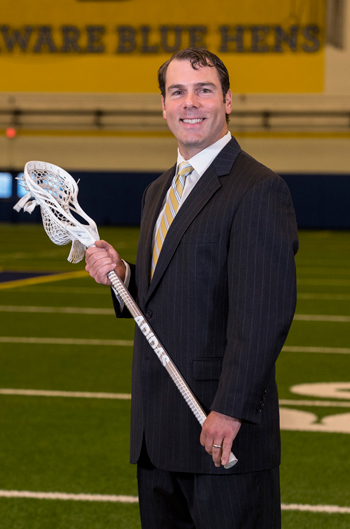 OUR UD | An exciting new era in the history of men's lacrosse is underway as Ben DeLuca has been selected to lead the Blue Hens program.
DeLuca, who spent the last two seasons as associate head coach at Harvard University, becomes the ninth coach in the 67-year history of the sport at Delaware and replaces legendary mentor Bob Shillinglaw, who retired this spring after winning 310 games and leading the Blue Hens to six NCAA Tournament appearances and 16 conference titles over a 39-year career.
"Ben believes strongly in the pursuit of excellence on and off the field and embodies the core values that drive the decisions we make every day in Delaware Athletics," says Chrissi Rawak, Delaware director of athletics and recreation services. "We have such a passionate group of Delaware lacrosse alumni, and I know Ben will build a strong connection with them. There is absolutely no doubt that he will make our men's lacrosse program, this department, and this University better."
DeLuca comes to Delaware with an impressive history of success as a student-athlete and coach at three of the nation's top academic and NCAA Division I lacrosse-playing institutions: Cornell University, Duke University and Harvard University. During that time, he has led teams to 14 NCAA Tournament appearances, including a national championship title as an assistant at Duke, a national runner-up finish as an assistant at Cornell and three other NCAA semifinal appearances as a head coach and as an assistant.
"I am excited and honored to take over a program from someone like Bob Shillinglaw, who has meant so much to this University and to the entire sport of lacrosse," DeLuca says. "I take very seriously my role as an educator, mentor and role model, and will lead our central mission to develop young men into men and prepare them for life after college. Hard work, integrity, character and a passion for greatness will be the hallmarks of our program. Well done is better than well said, and here at the University of Delaware we believe our actions will speak louder than our words."