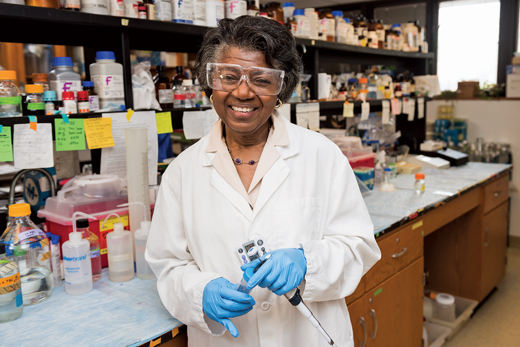 Alison award winner
Patricia DeLeon praised as selfless educator
OUR UD | Patricia DeLeon, the Trustees' Distinguished Professor of Biological Sciences, has received the 2017 Francis Alison Faculty Award, the University's highest competitive honor to recognize the faculty members who best demonstrate the combination of scholarship and teaching exemplified by the Rev. Dr. Francis Alison, founder of the institution that is now UD.
DeLeon, a reproductive biologist and a recognized international leader in the study of sperm dysfunction and infertility, is truly a scholar-schoolmaster as Alison was, said Robin W. Morgan, professor and chair of the Department of Biological Sciences.
In nominating DeLeon for the Alison Award, Morgan described her as dedicated to research and selfless in sharing her expertise with students, faculty and colleagues around the world. Her work as a teacher and mentor "has been extraordinary," Morgan said.
Some of DeLeon's recent work has identified particles in secretions from the fallopian tube that could help couples struggling with infertility. Knowledge of these tiny particles, which DeLeon and her students termed "oviductosomes," could improve the process of in vitro fertilization (IVF), which currently has only a 32 percent success rate.
At UD, DeLeon has taught a variety of courses, from introductory to the advanced graduate level, and has advised dozens of graduate students and mentored countless undergraduates—more than 100—who gained research experience in her lab.
She has 100 peer-reviewed publications, five book chapters, two instructor's manuals, 72 abstracts of presentations at professional meetings, one issued patent and two pending patents.
A member of the UD Board of Trustees from 1992-2011, DeLeon served for several years on the University's Commission on the Status of Women.