New coach for women's basketball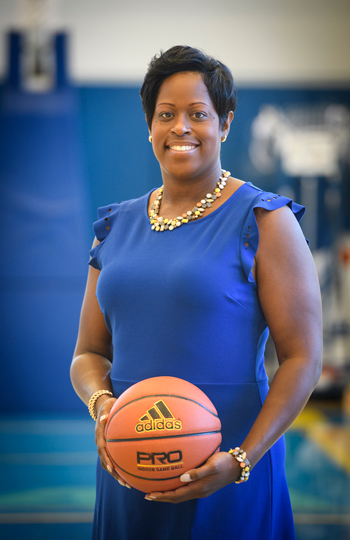 OUR UD | Natasha Adair has been selected as the fourth women's basketball head coach in the program's illustrious 46-year history.
She joins the Blue Hens from Georgetown University, where she turned around a four-win Hoya program to a postseason contender in three seasons as head coach. Under her leadership, GU finished the year with a 17-13 record this past season, the most wins for the Hoyas since 2011-12, and garnered the team's second straight trip to the Postseason WNIT.
"It became clear very quickly during this search that Natasha was the right person to lead this program," says Athletic Director Chrissi Rawak. "She brings a competitive spirit to all she does and is committed to helping young women grow on the court, in the classroom and in the community, embracing and supporting the complete student-athlete experience."
The Silver Spring, Maryland, native is no stranger to the Colonial Athletic Association as her first head coaching stint took her to the College of Charleston, where she was 35-31 overall. In the Cougars' first season in the CAA in 2013-14, Adair guided the college to a record of 19-15, marking the third-highest win total in the school's Division I era. Additionally, the squad finished third in conference play, defeated five postseason teams from the previous year and advanced to the semifinals of both the CAA Championship and the Women's Basketball invitational.
Adair was also recently selected as a court coach for the 2017 USA Basketball Women's U19 World Cup Team trials.
"Under [Rawak's] leadership, and with the unwavering support of President Assanis, the decision to become a Blue Hen was not only an easy one but also the right one for my family and me," she says. "Their passion and commitment to comprehensive excellence for the student-athletes, along with the entire University community, is what compelled me to make this exciting decision."
Adair played collegiately at Pensacola Junior College (1990-92) before playing and graduating from the University of South Florida with a degree in communications in 1994. She previously spent 13 seasons in the assistant coaching ranks, with seven years (2004-12) at Wake Forest University and six seasons (1998-04) at Georgetown University. Her coaching career has seen her develop and mentor 12 players who went on to play at the professional level.