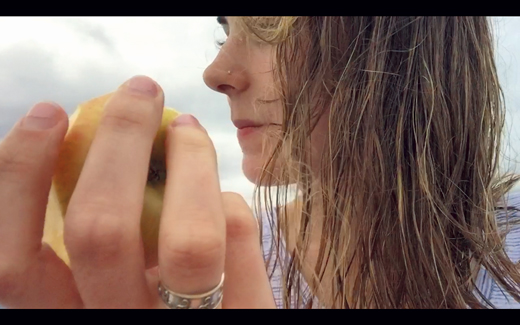 The stories we tell ourselves
Celebrating 10 years of the Plastino Scholars Program
Story and photos by Alexis Holzman, AS17
OUR STUDENTS | The best apple I ever ate was a McIntosh. Its crisp, tart beauty seemed so sublime as I sat on the deck of a dive boat moored along the Great Barrier Reef, and soon my thoughts were swept back into the past, toward everything the last few months had brought.
It had all begun during my days as a UD sophomore two years before, when one of my friends excitedly told me about a project that she had taken on. She talked about how it would let her travel across the country to learn about different museums and see how they engage with their communities.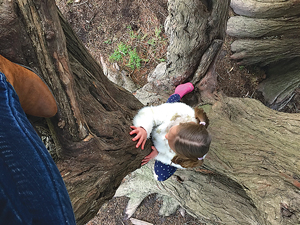 She called it the Plastino Scholars Program, and she encouraged me to consider it for myself. I waffled, and waited, and eventually decided I would just have to share her experience vicariously.
A year later, she texted me: "I still think you would benefit from going on a Plastino Scholars trip." Her suggestion took hold this time. A whole year older, although not much wiser, I began searching for innovative schools and teaching methods from around the globe. I emailed a dozen schools explaining the nature of my proposed trip, and for the next two weeks I waited, staring at my vacant inbox, until one day a reply arrived.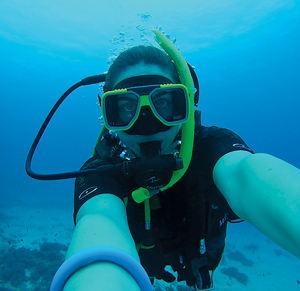 It was from a woman from Australia named Fiona Mackenzie, whose school, the Koonwarra Village School (KVS), works to create self-actualized learners by encouraging a life-long love of learning for students and staff alike. My goal was to identify best practices for my own future classroom.
I had finally found my own Plastino Project.
Soon, I would be standing at the departure gate of Philadelphia airport waving goodbye to my family. After boarding, I began reading Wild by Cheryl Strayed. Her words seemed prophetic as the plane hurtled down the runway and into the air: "Fear, to a great extent, is born of a story we tell ourselves, and so I chose to tell myself a different story from the one women are told. I decided I was safe. I was strong. I was brave. Nothing could vanquish me."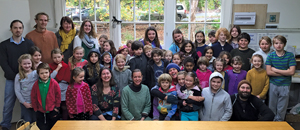 I felt safe. I felt strong. I certainly felt brave, but most of all I felt tired after two days in transit to Koonwarra, a small rural town about two hours outside of Melbourne. At the bus stop I met Fiona and her dog, Emily. We climbed the hill to Fiona's house and entered what looked like a perfectly curated Anthropologie catalogue. After some chit-chat, I slept soundly until morning.
Over the next month, I immersed myself in my research, observing classes, interviewing teachers, working to integrate myself into the school culture. I studied the report card creation process, wallowed in a gigantic mud puddle with the youngest children, took a geography quiz of the Australian territories with the older students, cooked in the kitchen, worked in the organic garden, climbed trees and slacklined with the students, aged 5-13.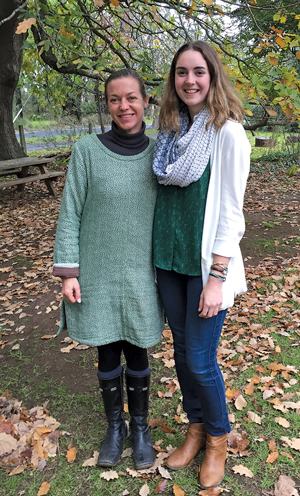 On cool mornings, I enjoyed daily tea with the mentors (the universal term for adults who work or volunteer at KVS), feeling the hot cup warm my hands as the playful banter between mentors and students warmed my heart.
One day, I had the privilege of sitting in on the Monday morning ritual of "symbol sharing" with the youngest students. One by one, they chose a knickknack from a shadowbox on the window sill and gathered in a circle to share their symbols, giving each a chance to reconnect after the long weekend.
Their easy congeniality and articulate minds impressed me and even convinced me that these young children are more emotionally aware than many of my college-aged peers. I also grew familiar with a certain democratic dynamic in the school, seeing with some astonishment how students helped improve the school's effectiveness with their common-sense suggestions.
Summarizing such subtle wonders with academic precision is difficult. I filled two notebooks with observational notes, conversation transcripts, drawings, notes from students and my own daily journal, but they can't hope to capture what I truly felt.
The best I can do is return to the apple I munched aboard the boat while finishing my scuba diving certificate. It was then that my life—and my view of living—had changed forever
I was overwhelmed by the experiences of the past month and a half. I was struck by the kindness of strangers, like the family that took me on their trip to an Animal Sanctuary, even though it was pouring outside. I was filled with a sense of goodwill that flowed from four weeks of living with a woman who shared not only her home, but her passion for education. I was filled with a sense of adventure as I reflected on a spontaneous trip to the beach house of a mentor, an adventure into Melbourne with a student teacher and a run alongside kangaroos and wallabies (yes, this happened; yes, I freaked out like a typical American; no, I didn't have my camera).
I felt energized by the quirky spirit that pervaded my time at the school. Every day there felt like a Wes Anderson movie, with faces popping out of unexpected places, rainbow lorikeets circling overhead, the witty lyricism of the student-mentor banter and the amazingly unique individuals who run it.
I was empowered to pursue my wildest passions in life and to start over when faced with a new calling.
The quote that guided me throughout the application process was by Rumi: "Respond to every call that excites your spirit." My experiences internalized this approach to life. And honestly, if saying "yes" to things that I am passionate about will bring me to the middle of the ocean where I'll eat the best apple of my life, I'll say yes to it all.
Alexis Holzmann, AS17, graduated this spring with a degree in international relations and minors in urban educational studies, sociology and French. Her Plastino project, "School Over Summer Vacation: An Opportunity for Collaborative Learning with the Koonwarra Village School," solidified her desire to become an education researcher.
For more on David Plastino and the Plastino Scholars program visit: www.udel.edu/udmessenger/plastino