Seeing the connections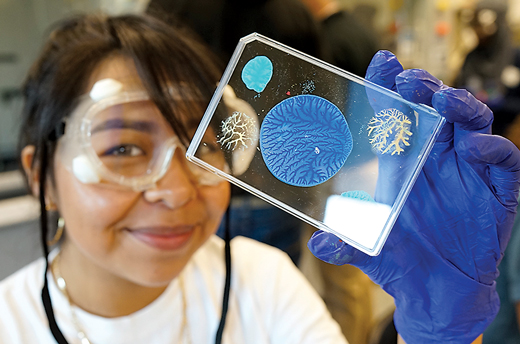 Photo by Eric Ruth
OUR STUDENTS | The Blue Hens of tomorrow are being created today.
It happens each year at UD's Interdisciplinary Science and Engineering Lab, where the slumber of winter and summer break is abruptly interrupted by busloads of students and teachers from high schools around the state, all primed for a week of wonder-inducing lab experiments. As they toil to create their balloon-driven cars and beaker-curdled cheese, the students also discover how science, technology, engineering, art and math can blend to bring beautiful things—and even be the basis of their not-so-distant careers.
This style of "interdisciplinary problem-based learning" isn't all new to them—the teachers who accompany them have been working for years to let it take root in classes—but here at UD's Discover Delaware project, the instructors are encouraged to experiment along with the students, working to find new ways of inspiring the young minds.
"That's the whole point, to get the kids excited about science," says Charley Hackett, a math teacher at Delcastle Technical High School. The program's sponsors—including UD's Professional Development Center for Educators and the Delaware Department of Education–see it as an especially effective tool for inspiring female and minority students, who make up a disproportionately small percentage of workers in STEM fields.
"We want kids who can prosper in this environment, and may not know it," says John Manon, who helps oversee the project for UD's teacher development center. "This is the chance to realize their potential."
Article by Eric Ruth