From Our President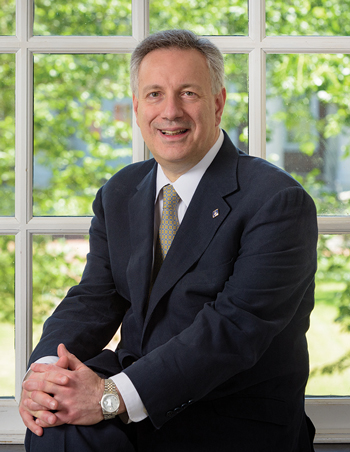 As we head into a new academic year at the University of Delaware, I am truly inspired by all of the opportunity ahead of us —much of it defined by the partnerships we forge to advance our institution and our society. Partnerships are essential to connect us to others, link our scholarship to action and extend our reach into the world. This helps us provoke new thinking in the classroom, pursue new insights in arts and humanities, business, engineering, and the sciences, translate our discoveries to innovation and engage with the community.
I am energized by the many collaborations that are taking us to some exciting places. For example, the Delaware Innovation Space Inc.—a science-business incubator formed with DuPont Co. and the state— provides a new outlet for the practical application of UD's research. Through the new Biden Institute, we are advancing social-science scholarship and addressing our nation's toughest problems. The STAR Tower when completed will be filled with partners dedicated to finding innovative solutions to our community's health challenges. Our new research partnership with the Veterans Affairs Medical Center in Wilmington lets us apply our strengths in physical rehabilitation, prosthetics, chronic-disease care, concussion research and much more to improve the health and well-being of our nation's veterans. And our new UDairy Creamery outlet in downtown Wilmington is a successful—and tasty!— partnership connecting our agriculture, business and Associate in Arts programs.
Our partnerships have the power to shape the future, such as those we are forming in the burgeoning biopharmaceutical field. UD's strengths in chemical engineering, biotechnology, health sciences and other areas have positioned us to lead the new National Institute for Innovation in Manufacturing Biopharmaceuticals. Through NIIMBL, UD and a national coalition of industries, governments and research universities will help advance the next generation of gene therapies, vaccines and other treatments for cancer, diabetes, autoimmune disorders, infections and more. Biopharmaceuticals represent at least 40 percent of the medicines being developed today, and UD—through partnerships—is leading the way.
Our University overflows with potential and camaraderie that defines the UD experience. You, of course, are our most valuable partners. You are essential participants in our global network of ideas, talent and passion. By carrying your Blue Hen pride far beyond The Green and continuing to invest in the University, you strengthen UD as a powerhouse of knowledge, discovery and service.
Eleni and I enjoyed interacting with so many of you at Alumni Weekend and hope to welcome more of you to our beautiful campus soon. We trust you will find a vibrant culture of collaboration and an optimism that is palpable and infectious. Truly, by working together, we will go far and make change happen.
Dennis Assanis
President, University of Delaware